Triathlon crowns new champ
STRATEGY The winner of the men's event kept pace with last year's victor in the cycling leg and then passed him up in the run to win by more than two minutes
The Uni-President Cup Triathlon concluded yesterday with Yang Mao-yung (楊茂雍) emerging victorious in the Olympic distance event consisting of a 1.5km swim, 40km cycle and a 10km run.
With most serious Taiwanese triathletes focusing on this event, there was less chaos in the opening swim than in the sprint distance event on Saturday, but it was still necessary for lifeguards to come to the assistance of some of the weaker swimmers.
Hsieh Sheng-yen (謝昇諺) had no such problems, emerging from the water first in a time of 18 minutes and 46 seconds. Yang was a little over a minute behind and in fourth place at this point, with defending champion Craig Johns eight seconds further back in sixth place.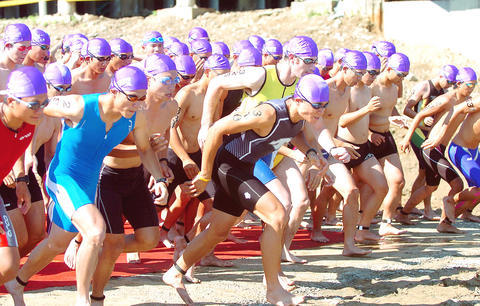 Competitors in the Olympic distance Uni-President Cup Triathlon wait for the signal to start the swimming leg at Sun Moon Lake yesterday.
PHOTO: LO PEI-DER, TAIPEI TIMES
Yang said afterwards that getting in and out of the lake had been difficult because of the mud, a situation that worsened as the weekend progressed.
New Zealander Johns said the transition from the swim to the cycle had been very difficult, as it involved a 500m uphill run to the bikes.
Johns said he had felt lightheaded and that it had taken about 10km for him to get into a rhythm on the bike.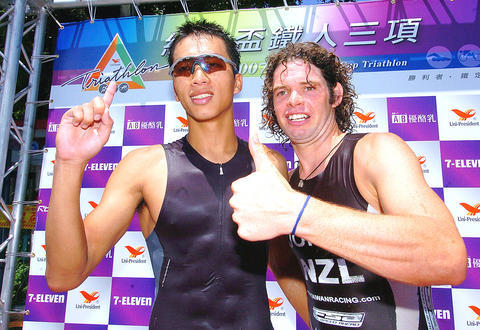 Yang Mao-yung, left, winner of the Olympic distance Uni-President Cup Triathlon, is joined on the podium by runner-up Craig Johns of New Zealand.
PHOTO: LO PEI-DER, TAIPEI TIMES
Nevertheless, he and Yang dispatched Hsieh during the cycle, with Johns starting the concluding run with a slight advantage.
Yang said later he was very pleased with his cycling in this event, having focused on keeping as close as possible to Johns, a strong cyclist.
Having managed to do that, Yang said he was "70 percent" confident that he could overtake Johns in the run and win the race.
This proved to be correct, as Yang was able to close the 19-second gap to Johns and pull away to win by two-and-a-half minutes in a time of 2:06:22.
In post-race interviews, Yang said he had been very determined and was elated to have beaten the defending champion.
For his part, Johns said this had been his worst swim and worst cycle for quite a while.
He attributed this to fatigue, possibly as a result of having raced in Bali the previous weekend, where he also finished second.
He said Yang had been very strong on the run and had impressed him during the cycling leg.
Johns was visibly exhausted after the race, but found the energy to check in on third-place finisher Hsieh. Hsieh crashed during the transition from the bike to the run, grazing his knee, and was also suffering from exhaustion.
Li Hsiao-yu (李筱瑜) won the women's race in a time of 2:27:56, successfully defending her Uni-President Cup title.
She said the race had been very hot and very difficult, with even the water being too warm for comfort.
She said she had felt dizzy and dehydrated but had not experienced any added pressure as a result of having won last year.
With four titles to her credit so far, Li said she was pleased to see that the number of women participating in triathlons was increasing every year, as this would help to improve the level of competition.
For the second straight year, Wang Chi-wen (汪旗文) had to be satisfied with finishing second to Li. A National Taiwan Normal University graduate student, she finished in 2:35:14.
Wang said she was disappointed with the result and had been hampered by an injury to her left arm. She said she had not been happy with the conditions and had had trouble getting water during the run.
Wang said she lost a lot of time during the cycle because of tired legs and poor course marshaling.
Several riders missed the a turn marker on the cycling course and had to be rerouted by the marshals.
Other notable finishers included 15-year-old Yang Ming Senior High School student Lin Chun-hsin (林群馨), who finished an impressive 14th overall.
Lin said this was his second Uni-President Cup and that he had improved his time by about 15 minutes.
The first female high school student was 14-year-old Lin Wei-ting (林緯婷).
A member of the Feng-Xi Junior High School swimming team in Kaohsiung County, Lin Wei-ting said she had found the race difficult but hoped to win the Uni-President Cup in the future.
The media darlings of the event proved to be couple Chen Hung-wen (陳弘文), 28, and Li Wei-hsuan (李薇萱), 26.
Participating in their third Uni-President Cup, Chen and Li Wei-hsuan are doctors and have been together for seven years.
Chen and Li Wei-hsuan said they had been surprised by all the attention and that everyone had treated them very well.
They said they would be back next year, despite Li Wei-hsuan having her head forced under water by another triathlete during the swim.
Comments will be moderated. Keep comments relevant to the article. Remarks containing abusive and obscene language, personal attacks of any kind or promotion will be removed and the user banned. Final decision will be at the discretion of the Taipei Times.