Toulouse soccer players outdo rugby union rivals
Toulouse's soccer players have done what many in the French city would once have thought impossible.
By unexpectedly grabbing a Champions League spot for next season, they managed to upstage their famed rugby union rivals.
Toulouse were in seventh spot with a game to go in the French first division and four points behind third-placed Lens just two days before they qualified on May 26.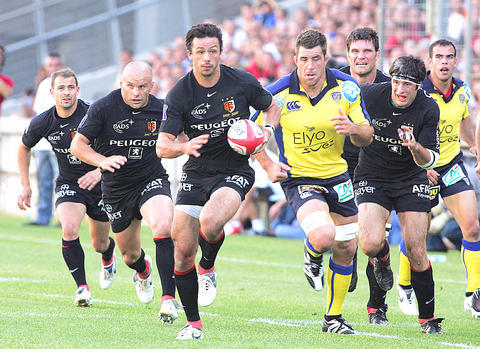 Toulouse fullback Cement Poitrenaud, center, runs with the ball during the French Top14 semi-final rugby union match against Montferrand at the Velodrome stadium in Marseille on June 2.
PHOTO: AFP
At this point it was mathematically impossible for them to get into the top three and qualify for the Champions League.
On May 24, they were awarded a victory at Nantes, which ended 0-0 the previous weekend, after a pitch invasion by Nantes fans in the 87th minute meant the match was abandoned.
The French league disciplinary commission president, Jacques Riolacci, said they had followed rules to the letter in awarding Toulouse victory and giving Nantes a one-match, suspended, stadium ban.
Toulouse moved a place to sixth, but they were still two points behind third spot with Lens, Bordeaux and Rennes above them.
However, Toulouse's 3-1 victory over Bordeaux on the last day of the season, combined with both Rennes and Lens failing to win, propelled them into Europe's most prestigious competition.
Then Toulouse mayor Jean-Luc Moudenc broke his ankle when thrown into their soccer club's bath in celebration of their qualification.
Moudenc claimed afterwards he was surprised by the shallowness of the bath when thrown in and his left ankle is now in plaster.
"I'll be in plaster for three weeks and then another three weeks of rehabilitation," Moudenc said.
Toulouse are better known for their rugby team, the only side to have won rugby's version of the European Cup three times.
So how did Toulouse FC do it?
Star striker Johan Elmander of Sweden was one reason and experienced coach Elie Baup certainly must take a large part of the credit.
Elmander, a relative unknown at the start of last season, became the heart of the team and often when he did well the team did well too.
And his hat-trick in the final match against Bordeaux to book Toulouse's place in the August 3 Champions League third qualifying round draw brought his season's tally to 11, the best at the club.
The former Brondy player combined a strong physique with reasonable technical ability to produce memorable performances.
Looking ahead to next season, Baup said keeping hold of Elmander and recruiting well were key to another good season.
"[In] Europe, we need another four players to continue to do well," Baup said.
Comments will be moderated. Keep comments relevant to the article. Remarks containing abusive and obscene language, personal attacks of any kind or promotion will be removed and the user banned. Final decision will be at the discretion of the Taipei Times.