All-Star roster challenging: La Russa
As the manager of last year's National League champions, Tony La Russa of the Cardinals has the privilege of filling out his team for the All-Star Game this year.
La Russa, however, calls it more of a challenge.
"The perception that has to be corrected is that you don't pick much of an All-Star team; it's picked," La Russa said, shaking his head.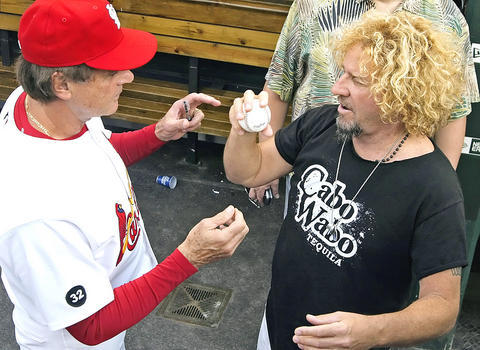 St. Louis Cardinals manager Tony La Russa gives rocker Sammy Hagar some tips before Hagar throws out the first pitch before a game against the Kansas City Royals last Tuesday in St. Louis.
PHOTO: AP
Each team has 32 players and they are chosen through a variety of channels. The fans select the eight starting position players. The players' ballot accounts for 16 more -- eight position players, five starting pitchers and three relievers -- leaving eight spots to be filled.
La Russa is awarded seven selections and the final slot will be chosen during online voting in the week before the game July 10 in San Francisco. The teams will be announced on Sunday evening.
The latest round of balloting for the NL was announced on Monday and the Mets stars David Wright, Jose Reyes and Carlos Beltran still had the most votes at their respective positions and were expected to start. Beltran has lost ground, however, in his quest to receive the most votes in the NL; Ken Griffey Jr. has drawn within 58,000 votes of the honor.
La Russa said that he had been keeping tabs on players since May 1, but that he felt hamstrung by the rule that called for every team to be represented. Given seven spots to fill, he speculated that he could make only three or four choices based strictly on merit.
Barry Bonds is 119,000 votes behind Alfonso Soriano for the final starting outfield spot, but the players will probably vote him in. If that does not happen, however, La Russa will be confronted with whether to include Bonds on the roster. On Monday, he did not offer any insight into his thinking.
"Unless you have a lot of time to waste, spending your time on what-ifs, you're spinning your wheels," La Russa said. "You have to look at what's presented, and at that time make a decision. It makes everybody kind of a candidate."
Comments will be moderated. Keep comments relevant to the article. Remarks containing abusive and obscene language, personal attacks of any kind or promotion will be removed and the user banned. Final decision will be at the discretion of the Taipei Times.