Irish amateurs exposed by rampant India
CALL FOR PROFESSIONALISM Ireland's captain said a professional structure for cricket in the country is vital as their lack of strength in depth was exposed by the Indian tourists
Ireland captain Trent Johnston said it was vital a professional structure was put in place for the country's cricketers as their present amateur status made it "impossible" to compete against the world's leading sides.
Ireland caused one of the shocks of the World Cup by beating Pakistan in March in Jamaica and advancing into the second round.
But, in their first one-day international since their Caribbean adventure, they went down to a nine-wicket defeat against India -- who failed to qualify for the World Cup Super Eights after the shock of losing to Bangladesh in their pool -- at Stormont cricket ground on Saturday.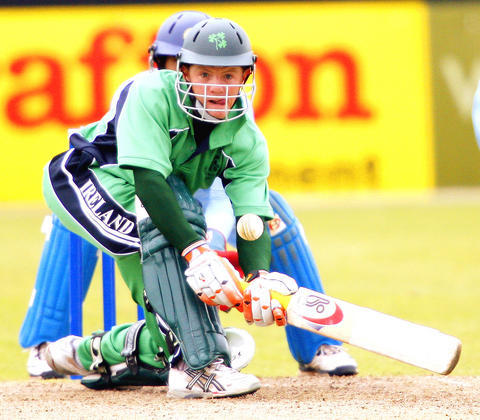 Ireland's Niall O'Brien plays a shot off a ball from India's Sachin Tendulkar during the One Day International match in Belfast, Northern Ireland, on Saturday.
PHOTO: AFP
Irish cricket's lack of strength in depth was exposed by the absence of six members of the squad that beat both Pakistan and Bangladesh at the World Cup.
Eoin Morgan, Jeremy Bray, Boyd Rankin, David Langford-Smith and Andre Botha weren't available against India along with the Mooney brothers.
Rankin, Langford-Smith and Botha were injured but Morgan opted to play for English county Middlesex instead and Bray asked not to be considered.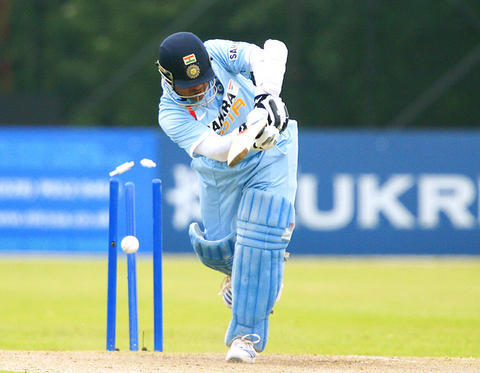 India's Sachin Tendulkar is bowled by Ireland's Roger Whelan in Belfast, Northern Ireland, on Saturday.
PHOTO: AFP
"It's very difficult. We are amateur cricketers," Johnston said. "We get together for two or three hours a week as a squad to train and it's impossible to compete against these guys. I think you can see from our performances in the World Cup when we were 24/7 cricket, we were a different side. There's a lot more pressures when you are back here, you've got kids, you've got families."
"We've got to have professional contracts put in place so players can get back to the standard we set in the West Indies," the 33-year-old Australia-born Johnston said.
The Irish squad, before the World Cup, enjoyed a training camp in South Africa before taking part in a triangular series in Zimbabwe and the International Cricket Council World Cricket League in Kenya.
"Four months we were away playing cricket and you could see in our performance over there we were a much better team," Johnston said.
Ireland, who played South Africa yesterday, have had had a poor run since the World Cup, apart from an Intercontinental Cup (the first-class competition for non-Test sides) against Canada and they didn't win a single match in the Friends Provident Trophy, English cricket's 50-over domestic one-day event.
Against India on Saturday, they were bowled out for 193. Wicket-keeper Niall O'Brien, who plays for English county Northamptonshire, scored 52 and added 48 for the seventh wicket with Johnston, who made 34.
In reply, Ireland saw one-day international debutant Roger Whelan bowl Sachin Tendulkar off the sixth ball of India's innings.
But an unbroken stand of 192 between Gautam Gambhir (80 not out) and experienced former captain Sourav Ganguly (73 not out) saw India, after rain revised their target to 171 off 39 overs, home with 25 balls to spare.
"Getting Tendulkar out first over, I thought something might happen here," Johnston said. "But we are in a rebuilding process. Our two opening bowlers [Whelan and Thinus Fourie] have probably played three or four games in total between them for Ireland. To open the bowling against Ganguly and Tendulkar is a huge step up."
Ireland played South Africa at Stormont yesterday before the Proteas face India in three one-day internationals next week at the Belfast venue.
"We've got good young cricketers coming through. We've got to come back tomorrow [yesterday] and put in a good performance," Johnston said.
Comments will be moderated. Keep comments relevant to the article. Remarks containing abusive and obscene language, personal attacks of any kind or promotion will be removed and the user banned. Final decision will be at the discretion of the Taipei Times.