Verlander pitches Tigers to win over Braves
Justin Verlander pitched seven innings to win his fourth straight start and the Detroit Tigers beat light-hitting Atlanta 2-1, leading frustrated Braves manager Bobby Cox to pick up a record-tying ejection on Saturday.
Cox was thrown out of the game in the ninth inning by plate umpire Chad Fairchild. Cox's ejection gave him 131 for his career, tying the major league record set by John McGraw 75 years ago.
Cox came on the field as Fairchild tossed Atlanta's Brian McCann for arguing a called third strike from Todd Jones, who got three outs to earn his 18th save in 22 chances. Cox already has the record for most ejections by a manager, since 14 of McGraw's came as a player.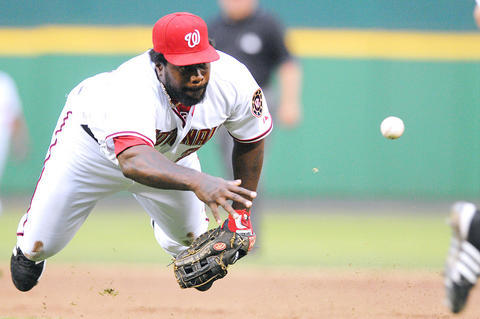 The Washington Nationals' Dmitri Young throws the ball to pitcher Matt Chico at first to get the out on Cleveland Indians' Grady Sizemore during the third inning of their game on Saturday in Washington.
PHOTO: AP
Cubs 2, White Sox 1
At Chicago, Ryan Theriot's suicide squeeze against Bobby Jenks in the ninth inning drove in the go-ahead run and lifted the Cubs over the struggling White Sox.
Theriot laid down a bunt between the mound and the plate as pinch-runner Angel Pagan broke toward home. Jenks (2-3) fielded the ball but had no play at the plate as the White Sox suffered their 21st loss in 26 games.
Alfonso Soriano led off the game with a homer for the second straight day, and the White Sox tied it in the bottom of the first when Scott Podsednik scored on Jim Thome's groundout.
Rich Hill struck out six in 5 2-3 innings for the Cubs, giving up six hits and two walks.
Giants 6, Yankees 5, 13 innings
At San Francisco, rookie Nate Schierholtz ended San Francisco's season-long eight-game losing streak with a two-out RBI single in the 13th inning.
The Giants had to rally from an early three-run deficit and overcome Alex Rodriguez's game-tying home run in the ninth inning before getting their first win since June 12.
Ryan Klesko started the winning rally with a single against Scott Proctor (1-4). With two outs, Schierholtz blooped a single in front of center fielder Melky Cabrera. The Giants poured out of the dugout and mobbed Schierholtz on the infield.
That helped the Giants hand New York its fourth loss in five games and overcome another big game from Rodriguez, who had four hits and hit his major league-leading 28th homer in the ninth inning against Brad Hennessey.
Indians 4, Nationals 3
At Washington, Victor Martinez hit a three-run homer to straightaway center field in the top of the ninth for Cleveland.
Martinez hit Chad Cordero's pitch over the 410-foot mark, ending 17 innings of offensive doldrums for the Indians against Washington's pitching staff.
Tom Mastny (5-2) pitched the eighth inning to get the victory, and Joe Borowski was credited with his 21st save despite a shaky ninth.
The Nationals loaded the bases with one out in the ninth but Felipe Lopez grounded into a game-ending double play.
In other action on Saturday it was:
* Rangers 7, Astros 2
* Padres 6, Red Sox 1
* Blue Jays 11, Rockies 6
* Devil Rays 4, Dodgers 3
* Mets 1, Athletics 0
* Twins 11, Marlins 1
* Brewers 7, Royals 1
* Angels 10, Pirates 1
* Mariners 9, Reds 1
* Diamondbacks 7, Orioles 4
Comments will be moderated. Keep comments relevant to the article. Remarks containing abusive and obscene language, personal attacks of any kind or promotion will be removed and the user banned. Final decision will be at the discretion of the Taipei Times.