Farr-Jones says Stirling Mortlock should be skipper
Former World Cup-winning captain Nick Farr-Jones says Stirling Mortlock should lead the Wallabies in their campaign for the Webb Ellis Cup in France later this year.
Farr-Jones also believes the Wallabies should dispense with the co-captaincy system where Mortlock and flanker Phil Waugh share the team leadership, reports said.
The 1991 Wallabies scrumhalf, who led Australia to the first of two World Cups, said Waugh's candidacy for the leadership role will be compromised as long as he and George Smith are vying for the starting role as openside breakaway.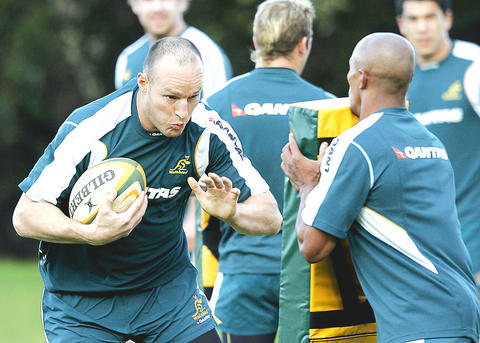 Australia rugby players Stirling Mortlock, left, and George Gregan train in Cape Town, South Africa, ahead of last Saturday's Tri-Nations match.
Photo: AFP
"I find it strange having co-captains announced," Farr-Jones told yesterday's Sydney Morning Herald.
"I can understand that Waugh and Mortlock are very good leaders in their own right. And obviously the selectors are not absolutely firm on Smith or Waugh," he said.
But Farr-Jones has no doubt who is the more suitable Wallabies captain between Mortlock or record-capped scrumhalf George Gregan.
Gregan led Australia in the 2003 World Cup and continued in that role until withdrawing from the end-of-season tour of Europe last year.
"I suspect Mortlock probably would be the natural captain," Farr-Jones said.
"A lot of people say, 'If George is back in the team shouldn't he be captain?'" Farr-Jones said.
"But I think George is probably very comfortable in the role that he has got. And just because he doesn't have a 'c' next to his name doesn't mean he is not doing exactly what he would have done when he was captain," he said.
"He would be doing the same in the background. He would be doing the same on the field. And I am sure he is totally comfortable with that," Farr-Jones said.
Meanwhile, rugby star David Campese, who scored 64 Test tries and played in 101 Tests for Australia, has reportedly been shunned by the current Wallabies team.
Campese has been an outspoken critic of his national team since he retired in 1996.
The team reportedly voted unanimously not to have Campese present them with their jerseys before last weekend's Tri-Nations match against South Africa in Cape Town, which the Springboks won 22-19.
It is customary for a former Australian player to hand the Wallabies their jerseys in a private team ceremony before each test match. Campese, who lives in the Western Cape in South Africa, was proposed by team management to fill that role for Saturday's match, but the Australian newspaper reported yesterday that the players voted against it.
Instead, the jerseys were presented by a member of the team management.
Comments will be moderated. Keep comments relevant to the article. Remarks containing abusive and obscene language, personal attacks of any kind or promotion will be removed and the user banned. Final decision will be at the discretion of the Taipei Times.