Jackson in plea deal to avoid jail
Stephen Jackson, a NBA guard involved in a strip club brawl that ended with gunfire last October, will make a plea deal to avoid jail time.
The Indianapolis Star reported on Monday that Jackson, who was with the Indiana Pacers at the time of the October 6 melee but since traded to the Golden State Warriors, agreed to reduced charges to avoid spending any time behind bars.
Jackson will plead guilty in Marion Superior Court today to criminal recklessness, a felony, for firing his gun into the air before and after he was struck by a car outside Club Rio in a fight outside the night club, court documents said.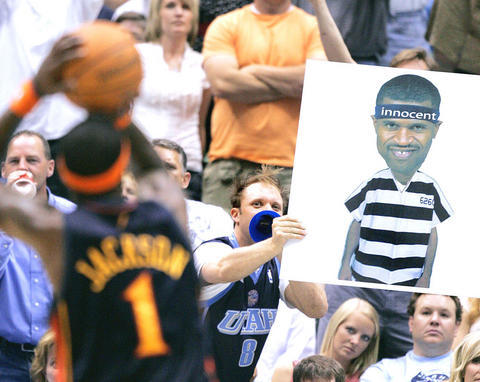 A Utah Jazz fan holds a sign showing Golden State Warriors guard Stephen Jackson in a prison uniform to distract Jackson as he shoots a free throw during the third quarter of their NBA playoff game on May 15.
PHOTO: AP
Suspended sentence
Should a judge accept Jackson's plea, the NBA player would receive a one-year suspended sentence, pay a US$5,000 fine and serve 100 hours of community service with a neighborhood charity service group in Indianapolis.
Prosecutors also agreed to convert the felony to a misdemeanor conviction since it would have been the first felony conviction for Jackson, who had originally entered a not guilty plea.
Other misdemeanor charges of battery and disorderly conduct had also been originally filed against Jackson.
Their status was unclear.
The actions of Jackson and others were recorded by a video surveillance camera in the parking lot, where five shell casings from a 9mm handgun were recovered by police.
The assailant who struck Jackson with his car in the parking lot outside the club was sentenced in February to two years in prison, two years on probation and 100 hours of community service.
The guilty plea will almost certainly mean an NBA suspension for Jackson, whose troubles off and on the court contributed to him being traded to Golden State, which made the playoffs this season.
The Pacers missed the playoffs.
Brawl with spectators
Jackson, who took part in the Pacers' brawl with spectators at a game in Detroit in November 2004 and was suspended 30 games as a result, was on probation for a misdemeanor charge from that brawl at the time of the strip club incident.
Jackson and three Pacers teammates were arguing with another group of men in the club and Jackson was hit in the mouth in the parking lot.
Jackson was knocked onto the hood of a car and then began firing his gun.
Comments will be moderated. Keep comments relevant to the article. Remarks containing abusive and obscene language, personal attacks of any kind or promotion will be removed and the user banned. Final decision will be at the discretion of the Taipei Times.