Maine pitches Mets past Twins
BOUNCING BACK New York's Carlos Delgado hit a home run in the second inning to give the NL East leaders just their fourth win in 16 games this month
John Maine took a three-hit shutout into the eighth inning to earn his second win in eight starts, pitching the New York Mets over the Minnesota Twins 8-1 in interleague baseball on Monday.
Carlos Delgado homered and Maine (7-4) limited Minnesota to four hits over seven innings as the National League East Division leaders won for only the fourth time in 16 games this month.
Delgado, who batted just .189 on the Mets' 2-7 road trip, gave New York the lead with his 11th home run in the second inning against Carlos Silva (4-8).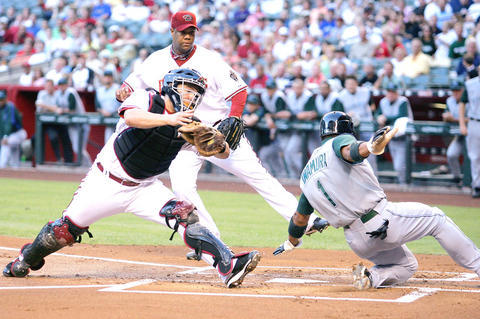 The Tampa Bay Devil Rays' Akinori Iwamura, right, of Japan slides safely past Arizona Diamondbacks catcher Miguel Montero's tag to score a run as Diamondbacks pitcher Livan Hernandez, rear, looks on in the first inning of their game on Monday in Phoenix, Arizona. The Devil Rays won 10-2.
PHOTO: AP
The Mets broke it open in the eighth when Ricky Ledee hit his first homer of the season.
Indians 10, Phillies 1
At Cleveland, Cliff Lee beat another NL team and Kelly Shoppach hit a three-run homer off Cole Hamels to lead Cleveland to a rout of the Phillies.
Lee (4-4) improved to 10-1 in interleague play. He allowed one run and five hits in seven innings -- his longest start since May 8.
Shoppach connected in the second inning off Hamels (9-3), the NL's only nine-game winner.
The left-hander was roughed up for six runs and eight hits in five innings -- his shortest outing this season. Shoppach added an RBI double in the sixth, Jason Michaels homered in the seventh and Grady Sizemore had two hits, two steals and scored twice.
The hitting streak of Cleveland's Casey Blake ended at 26 games. Blake went 0-for-3 and was hit by a pitch.
Ryan Howard hit his 15th homer for Philadelphia in the sixth.
Tigers 9, Nationals 8
At Washington, Carlos Guillen and Marcus Thames homered, Detroit scored six times in the fifth and held on to beat Washington.
Guillen drove in three runs and Gary Sheffield had two RBIs for the Tigers, who are 9-4 in interleague play this season.
Mike Maroth (5-2) won despite giving up five runs -- four earned -- and six hits over five-plus innings. The left-hander doubled in the fifth for his first career extra-base hit.
The Tigers had to withstand a three-run ninth-inning rally against Todd Jones, who got Ronnie Belliard to ground out to short with runners on the corners for the final out.
Matt Chico (3-5) gave up eight runs and nine hits in four innings.
Braves 9, Red Sox 4
At Atlanta, Brian McCann homered and drove in four runs off Curt Schilling, who endured his first strikeout-free start since 1993 in Atlanta's victory over Boston.
Schilling was rocked for 10 hits and six runs in four innings in his second-shortest outing so far this season.
Coco Crisp homered twice for the Red Sox and J.D. Drew went deep for Boston's other run.
But McCann outdid them both, putting the Braves ahead for good with an RBI double in the fourth and chasing Schilling (6-4) the next inning.
Atlanta starting pitcher Chuck James (6-6) won for the first time in four starts.
Royals 5, Cardinals 3
At St. Louis, Odalis Perez won for the second time in 10 starts and Kansas City took advantage of mistakes by St. Louis starter Adam Wainwright.
John Buck homered and Mark Teahen had two hits and an RBI for the Royals, who are starting a 10-game road trip after a season-best 6-3 homestand during which they took two of three from last year's World Series champions, outscoring them 28-16.
Wainwright (5-6) gave up five runs -- four earned -- in seven innings. He committed his first two errors in the first and then made a mental mistake while trying for a spectacular play.
Scott Rolen homered and So Taguchi had three hits for the Cardinals, who are 4-9 in interleague play.
White Sox 10, Marlins 6
At Chicago, Jim Thome added to his career interleague home run lead with a three-run shot and struggling Chicago matched its season high for runs in a victory over Florida.
Jose Contreras (5-7) got his first win since May 21, allowing eight hits and five runs over six innings.
White Sox right fielder Jermaine Dye made two diving, outstretched catches in right field but had to leave the game as a precautionary measure in the fourth inning with a strain to his right quadriceps.
After Jeremy Hermida's RBI single made it 10-6 in the ninth, Bobby Jenks came on and struck out Miguel Olivo for his 18th save in 19 chances.
Josh Johnson (0-1) made his first start of the season and lasted 3 2-3 innings, giving up nine hits and eight runs -- four earned. The first three batters he faced reached base.
Devil Rays 10, Diamondbacks 2
At Phoenix, Brendan Harris fell a double shy of the cycle and Jason Hammel earned his first career win as Tampa Bay defeated Arizona, giving the Devil Rays a 7-0 record against their 1998 expansion partners.
Harris hit a solo homer in the third, singled in the fifth and tripled in the seventh, all against starter Livan Hernandez (5-5).
Jonny Gomes also homered for Tampa Bay. He and Carl Crawford drove in two runs apiece.
Hammel (1-0) retired all seven batters he faced in relief of injured starter Edwin Jackson. Hammel hit an RBI double on the first pitch he saw as a big league batter.
Athletics 6, Reds 1
At Oakland, California, Joe Blanton struck out five and didn't walk a batter to win for the third time in four starts and Mark Ellis' three-run homer highlighted Oakland's victory over Cincinnati.
Eric Chavez hit a sacrifice fly and Nick Swisher tallied three singles and an RBI groundout for the Athletics, who saw their regular-season mark against Cincinnati improve to 7-0.
Kyle Lohse (3-9) allowed six runs -- five earned -- and eight hits in four innings.
Angels 10, Astros 9
At Anaheim, Chone Figgins had six hits, including a game-winning RBI triple in the ninth inning for Los Angeles.
Figgins finished 6-for-6 with a double and four singles to go with his tiebreaking triple. He drove in three runs and tied Garret Anderson's 1996 franchise record for hits in a game to help the American League West leaders rally from a 9-4 deficit.
Figgins also became the first major league player to get six hits since Seattle's Raul Ibanez on Sept. 22, 2004, at Anaheim. Ibanez was 6-for-6 as well.
Francisco Rodriguez (1-2) got the victory, escaping a bases-loaded jam in the ninth by striking out Craig Biggio.
Mike Lamb and Luke Scott homered for Houston against John Lackey and Mark Loretta was 4-for-5 with three RBIs.
Brewers 5, Giants 4
Prince Fielder hit his National League-leading 26th home run, Yovani Gallardo dazzled in his major league debut and the Milwaukee Brewers held off the struggling San Francisco Giants 5-4 on Monday.
Barry Bonds, with 748 career home runs, went 1-for-2 with a double in the sixth and two walks as San Francisco lost its fifth game in a row.
The 21-year-old Gallardo (1-0) silenced the rest of the Giants' sputtering offense and allowed just the one hit to Bonds from the second through the sixth inning.
The Giants finally came alive after Gallardo was pulled and pinch hitter Ray Durham hit a two-run homer down the right field line off reliever Carlos Villanueva to cut the Brewers' lead to 5-4 in the seventh.
Giants starter Noah Lowry (6-6) lasted 5 2-3 innings and gave up five runs on nine hits with three strikeouts and three walks.
Gallardo, who was born in Mexico and moved to Texas when he was 4 years old, lashed an RBI double in his first major league at-bat in the second to put the Brewers up 3-1.
Gallardo gave up four hits and three walks while striking out four and left to a standing ovation.
Comments will be moderated. Keep comments relevant to the article. Remarks containing abusive and obscene language, personal attacks of any kind or promotion will be removed and the user banned. Final decision will be at the discretion of the Taipei Times.