Hamilton displays talent with Indianapolis victory
Britain's Lewis Hamilton won the US Grand Prix on Sunday, underlining his extraordinary talent with a near-perfect display of racing at the Indianapolis Motor Speedway.
The rookie managed to resist a strong challenge from his Spanish McLaren teammate, and reigning world champion, Fernando Alonso and record his second consecutive victory.
Hamilton claimed his maiden win in Canada last weekend and is yet to finish off the podium after seven races.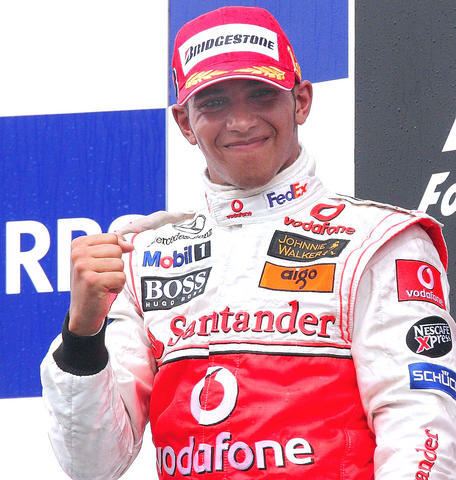 British Formula One driver Lewis Hamilton of McLaren Mercedes reacts after winning the US Grand Prix in Indianapolis, Indiana, on Sunday.
PHOTO: EPA
The 22-year-old has also extended his lead at the top of the world championship to ten points from Alonso who was second, 1.5 seconds behind Hamilton who took full advantage of his pole position.
Brazilian Felipe Massa was third for Ferrari ahead of teammate Kimi Raikkonen.
Another Finnish driver, Heikki Kovalainen, was fifth for Renault and Italian Jarno Trulli finished sixth in a Toyota.
The Indianapolis crowd was estimated to be more than 100,000 and, judging by the amount of replica McLaren team uniforms on display, Hamilton has struck a chord with US racing fans.
Victory also increased Hamilton's chances of becoming the first rookie world champion since Italy's Nino Farina in 1950.
Hamilton worked hard to stay in front of his teammate but the major drama was further back where under-pressure Toyota driver Ralf Schumacher, Honda's Rubens Barrichello and Red Bull's David Coulthard all had their races ended prematurely by a crash.
The incident could be particularly damaging for Schumacher, whose race seat is rumored to be under threat after a poor season so far.
Much to the delight of US hip-hop star Pharrell Williams, who watched the race alongside Hamilton's father Anthony, Hamilton opened up a 2.2 second lead from Alonso after 10 laps with Massa 4.5 seconds behind.
Hamilton continued to creep clear, regularly setting fastest laps before the first round of pit-stops after 20 laps.
After the cars emerged from their stops in the same order, Alonso began to attack Hamilton cutting the gap to under a second after 32 laps, Massa, in third, was now over 13 seconds behind the leaders.
Ferrari have been dominant at Indianapolis, winning six of the previous seven, but they never threatened the McLarens on this occasion.
Alonso pulled alongside Hamilton at the beginning of lap 38 but Hamilton skilfully resisted his more illustrious teammate.
The leaders went into the pits for the final time on the 51st lap and once again the pit crew did their jobs well and there was no change in the running order.
Raikkonen closed in on Massa but could not quite edge past his teammate and on to the podium.
Comments will be moderated. Keep comments relevant to the article. Remarks containing abusive and obscene language, personal attacks of any kind or promotion will be removed and the user banned. Final decision will be at the discretion of the Taipei Times.