Yao Ming turns to `The Dream' for advice
As long as he plays for the Houston Rockets, Yao Ming (姚明) will always be compared to Hakeem Olajuwon. He might as well turn to "The Dream" for advice.
Yao worked out with Olajuwon at the Toyota Center on Tuesday, the cornerstone of the Rockets' future getting his first lesson from the greatest center in franchise history.
"For a young player, how many people get this chance?" Yao said. "I'm the honored one of those."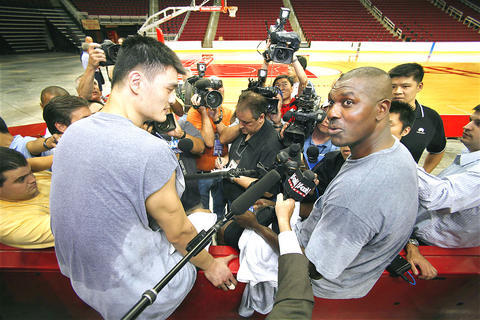 Houston's Yao Ming, left, and Hakeem Olajuwon talk with the media following a basketball workout at the Toyota Center in Houston, Texas, on Tuesday.
PHOTO: AP
The 44-year-old Olajuwon is the National Basketball Association's career leader in blocked shots (3,830) and led the Rockets to their only two championships in 1994 and 1995.
The reclusive Olajuwon sat next to team owner Les Alexander during the Rockets' loss to Utah in Game 7 of their first-round playoff series. Afterward, Yao eagerly accepted Olajuwon's offer to practice with him.
Olajuwon worked with Yao for about 90 minutes, picking apart Yao's post moves and giving him pep talks along the way.
"How do you dominate the game?" Olajuwon asked his attentive protege. "You are hardworking, you have the conditioning, you have the shots. You have everything. Now, you have to dominate."
Olajuwon showed off a few of his old moves, too, dropping in some baseline jumpers and jump hooks as easily as he did 10 years ago. Yao hopes Olajuwon's killer instinct rubs off on him, too. By the end of their practice, Yao felt like it had.
"The biggest difference between him and me is the mentality," Yao said. "He's got two championship rings. I can hear very strongly from him, `You are the biggest player on the court. You need to go in and change the game. You need to be dominant.' He repeated that time and time again. I feel a little bit different. I feel his heart."
Olajuwon retired after the 2001-2002 season and the Rockets selected Yao with the first pick in the NBA's annual entry draft a few months later.
Yao has blossomed into one of the league's top centers, averaging 25 points and nine rebounds last season. But in this year's playoffs, he committed 33 turnovers against Utah.
"My average score is up, my average turnovers are also high this year," Yao said. "I need to work on that."
Olajuwon showed Yao how to get into the lane from various spots and score using a single dribble.
The two had no more workouts planned, but both seemed eager to schedule another.
"It was great, just to see that he has all the tools," Olajuwon said. "He is very smart. It's so much fun to work with a great player like him, who has all the potential. It's scary to see what he can really do by just adding little things to his game."
Yao will return to China later this summer and play with the national team and when he comes back in the fall, he'll have a new coach. The Rockets fired Jeff Van Gundy on Friday after four seasons and will reportedly hire Rick Adelman.
Yao played for Van Gundy for four seasons and lamented his firing.
"He gave me the best four years, so far, in my career," Yao said. "I appreciate what he did for me. I'm so sad to hear he's leaving. We knew a little bit before that it was going to happen. I'm still sad."
Comments will be moderated. Keep comments relevant to the article. Remarks containing abusive and obscene language, personal attacks of any kind or promotion will be removed and the user banned. Final decision will be at the discretion of the Taipei Times.