China's Liu dominates 110m hurdles
Chinese star hurdler Liu Xiang (劉翔) continued his perfect winning record at the Japan Grand Prix yesterday in his rehearsal for the world championships later this year.
The Athens Olympic gold medalist, the winner here for the past three years, clocked 13.14 seconds in the 110m hurdles in his first outdoor race of the season.
Teammate Shi Dongpeng (史冬鵬), who lost to Liu in the Asian Games in Doha in December, came in second with his personal best of 13.24, followed by Japan's Tasuku Tanonaka third in 13.59.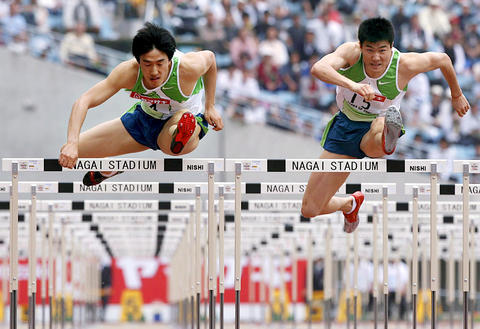 World record holder Liu Xiang, left, of China clears a hurdle in the men's 110-meter hurdles event as he competes with compatriot Shi Dongpeng during the Japan Grand Prix in Osaka yesterday. Liu won the race in 13.14 seconds as Shi took second.
PHOTO: EPA
Asian Games bronze medalist Masato Naito was fourth in 13.60.
"I'm very satisfied with the time in my first outdoor race of the season. Further more, Shi Dongpeng set his personal best. I'm really happy about it. We both want to finish top eighth in the world championships," Liu said.
The world championships, the last major athletics event before the Beijing Olympics next year, will be held at the same stadium here in August.
"I didn't do a special training for this race, because there were not big rivals, so I was quite sure that I would win if I could run my usual race. I set a personal best of 7.42 in Germany this season, so I'm quite confident," he said, referring to his result in the indoor 60m hurdles.
"This race is a preparation race for the world championships in August and my biggest goal of the year is to win the gold medal," the 23-year-old world record holder said.
Meanwhile, world 400m hurdles champion Bershawn Jackson repeated his performance from the Helsinki championships by clocking 48.13 to beat fellow US world silver medalist James Carter and bronze medalist Tamesue Dai of Japan.
"I think I did well at this point. I'm feeling good, confident now," Jackson said. "We can run very fast as it's a good condition and it is big enough to have the world championships this summer."
Carter came in at 48.22 and Tamesue ran a 48.73.
Without sprint great Maurice Greene, who pulled out after failing to recover from a dental operation, Shingo Suetsugu gave local fans something to cheer about by winning the men's 100m.
Suetsugu, a two-time Asian Games 200m gold medalist, finished in 10.23 to beat Josua Ross of Australia, who came in second in 10.37, and fellow Japanese Nobuharu Asahara, who finished third in 10.38.
"I was not in good condition, but it didn't bother me. The time was not good enough for me to be satisfied, but I really enjoyed the race," Suetsugu said.
"My goal is to reach the final at the world championships. It fired me up today. I'm really glad to win the race," he said.
The women's 100m was won by Cydonie Mothersill of the Cayman Islands, who clocked 11.33 to beat world champion Lauryn Williams of the US and Crystal Attenborough of Australia.
Comments will be moderated. Keep comments relevant to the article. Remarks containing abusive and obscene language, personal attacks of any kind or promotion will be removed and the user banned. Final decision will be at the discretion of the Taipei Times.