Buffalo Sabres rattle Rangers
Thomas Vanek and the Buffalo Sabres sure looked like the cream of the crop on Wednesday night.
Vanek scored twice, sparking a three-goal second period, and Ryan Miller stopped 32 shots in a 5-2 win over the New York Rangers in the Eastern Conference semi-final playoff series opener. Jason Pominville and Ales Kotalik also scored for a Buffalo team that played much better after struggling to eliminate the New York Islanders in five games in the first round.
The Sabres were particularly motivated after Rangers coach Tom Renney said this week that top-seeded Buffalo wasn't the NHL's "cream of the crop" team.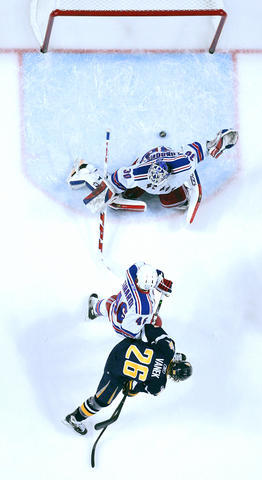 The Buffalo Sabres' Thomas Vanek, bottom, of Austria scores past New York Rangers goalie Henrik Lundqvist of Sweden, top, as the Rangers' Dan Girardi looks on during the second period of their NHL playoff game at HSBC Arena in Buffalo, New York, on Wednesday.
PHOTO: AP
Marcel Hossa and Brendan Shanahan scored third-period goals for the Rangers, who lost their first game this postseason after sweeping Southeast Division champion Atlanta.
The Rangers went 1-for-5 in power-play chances, but failed to score during a two-minute, two-man advantage early in the third period.
The Sabres never allowed the Rangers to within a goal in the third, and Drew Stafford sealed the win with an empty-netter.
New York didn't look rusty in its first game in a week, but the Rangers struggled to keep up with the Sabres' depth and speed. That was apparent when the Sabres went up 3-0, scoring three times on four shots during a 4:05 span late in the second period.
The Rangers allowed a total of six goals in the first round against the Thrashers.
Ducks 5, Canucks 1
At Anaheim, California, Andy McDonald had his first career playoff hat trick and assisted on another goal as Anaheim opened its first series against Vancouver with a victory.
After Jeff Cowan gave Vancouver a 1-0 lead at 7:07 of the first period, the Ducks responded by scoring three times -- twice by McDonald -- on their first nine shots against goalkeeper Roberto Luongo.
Teemu Selanne had a goal and assist during the outburst, and Chris Kunitz assisted on all three goals. Jean-Sebastien Giguere finished with 26 saves for the Ducks.
Ryan Getzlaf gave Anaheim a three-goal pad midway through the final period, and McDonald capped the scoring on a shot from just left of the crease when the Ducks had a two-man advantage with 52 seconds remaining.
The second game of the Western Conference semifinal series is Friday at Anaheim.
Comments will be moderated. Keep comments relevant to the article. Remarks containing abusive and obscene language, personal attacks of any kind or promotion will be removed and the user banned. Final decision will be at the discretion of the Taipei Times.