Nadal defeats Federer at Monte Carlo
Roger Federer seems no closer to figuring out how to beat Rafael Nadal on clay, as the top-ranked Swiss star lost his fifth straight match to Nadal on clay on Sunday at the Monte Carlo Masters 6-4, 6-4, while the second-ranked Spaniard extended his winning streak on the surface to 67.
"I lost four times against Rafa," Federer said. "I'd rather have that than lose against four different guys."
Nadal won the title at Monte Carlo for the third straight year. The two-time defending French Open champion is 14-0 in clay-court finals and 4-0 against Federer.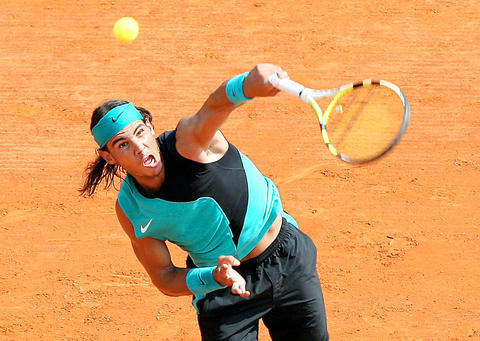 Rafael Nadal of Spain hits a return to Swiss opponent Roger Federer during their Monte Carlo Masters Series final on Sunday in Monte Carlo, Monaco. Nadal won 6-4, 6-4 as he defeated his Swiss rival for the second year in a row to claim the tourney's title.
PHOTO: AFP
But despite his latest setback, Federer believes he's still on the right track to win the only major that eludes him.
Federer has four Wimbledon titles and three at both the US and Australian Opens, but he still needs the French Open to complete the sweep.
"I feel this match gave me some information," Federer said. "I'm absolutely in the mix with him on clay. I feel like I'm in good shape for the rest of clay court season and it's going to come down to the French Open to see who wins."
Nadal beat Federer on clay last year in the finals of the Monte Carlo Masters, the Rome Masters and the French Open. He also beat Federer in the 2005 Monte Carlo semi-finals.
Only at the Rome Masters did Nadal have to save a match point against Federer on clay.
"Today's match was very close. For sure, it's a surprise to win in two sets against the No. 1," Nadal said. "I was confident because I was playing my best tennis this week."
Nadal is the first player to win three straight Monte Carlo titles since Ilie Nastase (1971-1973) and only the third in the Open era to have won it three times. Bjorn Borg and Thomas Muster also did so, but not consecutively.
Federer started well on Sunday and looked on top in the early rallies and comfortable on his serve.
"In the beginning, Roger was moving very good, attacking the ball," Nadal said. "It was tough for me. But after he have some mistakes and I felt very comfortable."
Federer, who won the previous two meetings with Nadal on other surfaces, missed two chances to break Nadal in the eighth game of the first set.
Nadal saved the first after a strong serve and the second after Federer's forehand went wide.
"I should have used my chances when I had them early on," Federer said. "Unfortunately, it turned around with a few mistakes."
It was Federer's third loss of the season, with the other two against Guillermo Canas last month at Indian Wells, California, and Key Biscayne, Florida.
Federer made 38 unforced errors and Nadal won on his second match point when Federer sent a backhand long.
Nadal overcame an awkward start to break Federer in the ninth game of the first set to win his 19th career title.
"He had two break points," Nadal said. "After that the match changed a lot. It's true he had some mistakes on his forehand he doesn't normally have."
Federer could not explain why his forehand was well below its usual standard.
"It rarely happens to me," Federer said.
Comments will be moderated. Keep comments relevant to the article. Remarks containing abusive and obscene language, personal attacks of any kind or promotion will be removed and the user banned. Final decision will be at the discretion of the Taipei Times.