McGrady, Yao give Utah Jazz the blues
BETTER LATE THAN NEVER Houston's premier shooter bounced back from scoring only a point in the first half with 22 in the second, including 16 in the third quarter
Tracy McGrady came alive just in time to help Yao Ming(姚明) lead the Houston Rockets to an 84-75 victory over Utah in their National Basketball Association playoff series opener.
Yao had 28 points and 13 rebounds and McGrady scored 22 of his 23 points in the second half as the Rockets took the lead in the best-of-seven Western Conference first-round series.
Rafer Alston collected nine points, 11 rebounds and eight assist for Houston, which overcame a poor 39-percent shooting effort.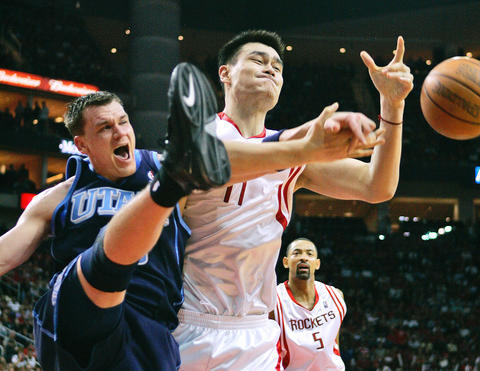 The Utah Jazz's Matt Harpring, left, and the Houston Rockets' Yao Ming, center, struggle for a loose ball during the second quarter of their NBA playoff game on Saturday in Houston, Texas. The Rockets won 84-75.
PHOTO: AP
The Rockets trailed 42-33 at halftime, largely because of the lack of offensive production by McGrady.
The Jazz held him to just one point on 0-for-6 shooting -- a career postseason first-half low.
However, McGrady regained his All-Star form in the third period, scoring 16 points -- highlighted by a deep pull-up jumper from the top of the key with 10 seconds left to cap an 18-4 burst and help Houston take a 59-53 lead into the final quarter.
Utah pulled within 65-63 on Matt Harpring's driving layup at the 8:27 mark. But the Rockets pulled away for good as Alston and Luther Head hit back-to-back 3-pointers, sparking an impressive 15-3 surge to push the lead to 80-66 with 3:33 remaining.
Two quick 3-pointers by Derek Fisher helped Utah cut the deficit to 80-74 with 32 seconds left, but McGrady split a pair of free throws to seal the victory.
All-Star Carlos Boozer struggled with just 11 points but did pull down 12 rebounds for the Jazz, who fell to 13-14 all-time in the postseason against the Rockets.
Eastern Conference
Sudanese-born forward Luol Deng scored 33 points and Ben Gordon added 24 to lead the Chicago Bulls over the defending champion Miami Heat 96-91 here on Saturday in an Eastern Conference playoff opener.
Deng, now a British citizen, scored back-to-back baskets, the last a three-point play, to give the Bulls a 92-83 lead with 1:51 left.
Miami answered with the next eight points, but Gordon and Argentina's Andres Nocioni, who finished with 17 points, each hit two late free throws to hold off the Heat.
In another best-of-seven Eastern Conference series opener, Richard Jefferson scored 28 points and former Toronto star Vince Carter added 16 to spark New Jersey past Toronto 96-91. Each series will continue tomorrow.
The Bulls had a game-high 14 rebounds by Ben Wallace and a game-high 11 assists from Gordon.
With Chicago clinging to a 92-91 lead, it was Wallace who tapped a rebound to Deng that led to Gordon's key free throws.
After Dwyane Wade, Miami's top scorer with 21 points, missed a 3-pointer, the Heat fouled Nocioni and the South American star sank two free throws with 9.8 seconds remaining to create the final victory margin.
Shaquille O'Neal had 19 points and six rebounds but had fouled out by the final dramatics as the defending champions, weakened by injuries all season, proved vulnerable to the new generation of the team Michael Jordan led to six NBA titles in the 1990s.
At Toronto, Carter made only five of 16 shots as Raptors supporters booed their former hero, but he went on to score nine points in the fourth quarter to help the Nets capture the first game of their series.
Comments will be moderated. Keep comments relevant to the article. Remarks containing abusive and obscene language, personal attacks of any kind or promotion will be removed and the user banned. Final decision will be at the discretion of the Taipei Times.