Near-perfect Buehrle helps White Sox rout Rangers
Mark Buehrle pitched the first no-hitter of the Major League Baseball season on Wednesday -- and he was nearly perfect, too.
The Chicago White Sox left-hander faced the minimum 27 batters in a 6-0 victory over the Texas Rangers, throwing his team's first no-hitter since 1991.
Buehrle allowed only one baserunner, walking Sammy Sosa with one out in the fifth inning, then promptly picking him off first base.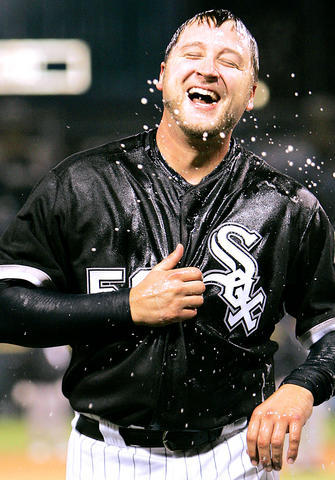 Chicago White Sox starting pitcher Mark Buehrle smiles as he celebrates with his teammates after the White Sox beat the Texas Rangers 6-0 in a baseball game in Chicago on Wednesday.
PHOTO: AP
"I can't believe I did it," Buehrle said. "A perfect game would have been nice, too."
On a chilly night, Buehrle threw 105 pitches. His previous low-hit game was a one-hitter against Tampa Bay on Aug. 3, 2001. It was the 16th no-hitter in White Sox history and first since Wilson Alvarez threw one at Baltimore on Aug. 11, 1991.
It was the first no-hitter pitched against the Rangers since June 17, 1995, when Toronto's David Cone threw one in a 4-0 win.
Jim Thome homered twice -- giving him 477 for his career -- and Jermaine Dye hit a two-out grand slam in the fifth off Rangers starter Kevin Millwood (2-2).
Yankees 9, Indians 2
At New York, Alex Rodriguez hit his major league-leading ninth homer and Kei Igawa limited Cleveland to a pair of runs over six innings.
Rodriguez hit a two-run drive in the sixth off reliever Tom Mastny, and leads the majors with 23 RBIs.
Jeremy Sowers (0-1) allowed six runs and nine hits in 2 2-3 innings for the Indians.
In other AL games it was:
* Red Sox 4, Blue Jays 1
* Athletics 3, Angels 0
* Royals 4, Tigers 3, 10 innings
* Orioles 6, Devil Rays 4
* Twins 5, Mariners 4
John Maine took a no-hitter into the seventh inning and the New York Mets scored four times before Dontrelle Willis retired a batter in a 9-2 win over the Florida Marlins on Wednesday.
Miguel Cabrera's sharp single broke up Maine's bid to become the first Mets pitcher to throw a no-hitter. Three batters later, Joe Borchard hit a two-run homer.
Maine (2-0) struck out seven and walked four in seven innings. Aaron Sele and Aaron Heilman completed the three-hitter.
David Wright, who went 2-for-5, singled in the second inning to extend his career-best hitting streak to 25 games, a franchise record over two seasons for the Mets. Hubie Brooks (1984) and Mike Piazza (1999) share the one-season record of 24 games in a row.
Willis (3-1) allowed 10 hits and eight runs, seven earned, in five innings.
Carlos Beltran homered and drove in three runs for New York. Jose Reyes went 4-for-6 and scored twice.
Astros 7, Reds 2
At Cincinnati, Jason Lane hit a three-run homer in the eighth inning, completing a rally that lifted Houston to a win over Cincinnati.
In other NL action it was:
* Nationals 5, Phillies 4, 13 innings
* Braves 8, Cubs 6
* Brewers 7, Pirates 3
* Rockies 7, Dodgers 2
* Diamondbacks 5, Padres 2, 12 innings
* Giants 6, Cardinals 5, 12 innings
Comments will be moderated. Keep comments relevant to the article. Remarks containing abusive and obscene language, personal attacks of any kind or promotion will be removed and the user banned. Final decision will be at the discretion of the Taipei Times.