Romario frustrated in the search for his 1,000th goal
Romario's attempt to score the 1,000th goal of his career has turned into a seemingly interminable saga which will now drag on for at least another month.
Vasco's da Gama's penalty kick elimination from the Rio Cup tournament on Wednesday marked Romario's third game without scoring since he claimed his 999th goal on March 25 against Flamengo.
Eight players scored as Botafogo and Romario's Vasco drew 4-4 but the 41-year-old former World Cup striker was not among them.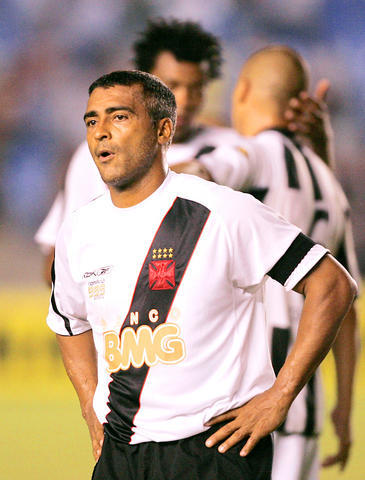 Vasco da Gama's Romario gestures during a Taca Rio soccer game against Botafogo at the Maracana stadium in Rio de Janeiro on Wednesday.
PHOTO: AP
Penalty loss
Vasco tumbled out of the competition after losing 4-1 on penalties and Romario, who openly admits his tally includes junior and testimonial games, will have to wait for the start of the Brazilian championship on May 12 before he has another stab.
That match will be far from the Maracana stadium, his favorite venue, as it is away to America in the north-eastern city of Natal.
Romario's desire to score the goal at the Maracana is so strong that he has sat out Vasco's last two games at other venues at his own request.
However, it is not clear how long coach Renato Portaluppi will play along with Romario's personal ambitions, especially considering that the player's statistics are highly questionable in the first place.
With his team down to 10 men after Andre Dias was sent off on Wednesday, the static Romario would have been a leading candidate to come off.
Yet he stayed on the pitch to the bitter end despite suffering from serious cramp in both legs, just as he did in last week's 2-1 defeat by second division Gama in the Copa Brasil and the previous Maracana game against Botafogo which Vasco lost 2-0.
Two chances
Romario had only two real chances during the game and barely touched the ball. The closest he came to scoring was when he nearly got his head to Jorge Luiz's shot as it flew into the top corner of the net for Vasco's third goal.
Vasco have been knocked out of two cup competitions since Romario reached the 999 mark and have failed to win their last four games. Coach Portaluppi's job is a subject of speculation.
"The dream never ends," Romario said as he left the pitch surrounded by dozens of reporters and cameramen. "I'm sad that we were knocked out. The 1,000th goal is secondary to that."
Possibly the happiest man on the pitch was Botafogo's 20-year-old goalkeeper Julio Cesar, who has twice been faced with the possibility of going down in history as the man who conceded the 1,000th goal and has escaped both times.
Comments will be moderated. Keep comments relevant to the article. Remarks containing abusive and obscene language, personal attacks of any kind or promotion will be removed and the user banned. Final decision will be at the discretion of the Taipei Times.