Calzaghe eager to shine in front of US audience
TENACIOUS Admitting that he tried too hard to impress in his most recent challenge, the unbeaten Welshman is taking nothing for granted in his 20th title defense today
Joe Calzaghe knows there are harder fights available than the one that awaits him in front of 35,000 fans at the Millennium Stadium in Cardiff today, but he is also aware he can ill afford another disappointing display.
Some UK bookmakers have quoted the unbeaten Welshman at a massive 50-1 on to defeat Peter Manfredo Junior, the 26-year-old US challenger for his World Boxing Organization (WBO) title that he defends for a 20th time.
Calzaghe, 35, is boxing's longest-reigning world champion and some have dismissed his latest defense against Manfredo, star of the reality television series The Contender two years ago and who has spent most of his career at light-middleweight and middleweight, as a mismatch.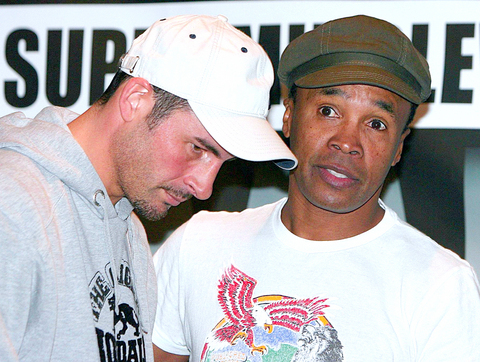 Joe Calzaghe, left, talks with boxing legend Sugar Ray Leonard, Peter Manfredo Junior's advisor, at a press conference in Cardiff, Wales, on Thursday. Calzaghe will fight Manfredo for the WBO super-middleweight boxing title in Cardiff tonight.
PHOTO: AP
But not Calzaghe, who is adamant he faces a legitimate challenger in a fight which is more about the champion's chance to shine in front of a large US TV audience and so set up a bigger fight later this year. With US TV network HBO screening the fight live, Calzaghe is anxious to please after his last outing when he admits he under-performed.
After destroying US boxer Jeff Lacy so impressively over 12 one-sided rounds a year ago, Calzaghe was then taken to points by Australian Sakio Bika in an ugly brawl in October.
"In my last fight I tried too hard to impress the crowd and American TV, but I will learn from my mistakes and that won't happen again," Calzaghe said.
"I let myself down and tried too hard against Bika. A lot of fighters go back when I fight them and it goes to my head. I go for the trigger and come unstuck like I did against Bika. I don't want to go in wild and look messy, get caught by head-butts or elbows like I did against Bika," he said.
"This time I want to show my full arsenal of skills but I have to be patient and not too fired up. It's all about showing my boxing skills and a knock-out will come. This is a chance for me to show the world what I'm all about and against an opponent who is a big name," Calzaghe said.
"He's well known in America but also over here. I've seen blokes in Cardiff with Manfredo T-shirts on, which is a bit insulting really. He's not the best guy I've fought, but he's not the worst. Nobody gave Bika a chance and it was my toughest fight. Jeff Lacy was supposed to be beat me up but I smashed him up, so you never know," he said.
Despite what promoter Frank Warren is calling a record for an indoor boxing event in Europe and the biggest crowd seen in Britain for a fight since super-middleweights Nigel Benn and Chris Eubank clashed in front of 42,000 at Old Trafford in 1993, Calzaghe is not giving the size of the audience too much thought.
"I'm proud to be part of such a big event and I want to put on a show to make everyone happy, but I don't want to focus too much on the size of the crowd," Calzaghe said.
Manfredo, who was beaten by Sergio Mora in the final of The Contender, hopes Calzaghe will crack under the pressure.
"The pressure is definitely on him, I have no pressure," Manfredo told a news conference on Thursday.
"I'm going into his back yard in front of 35,000 people screaming his name. I have nothing to lose, but he has."
Amir Khan, the 2004 Olympic silver medalist from Bolton in England, claims the presence of US TV will inspire him to a new level of performance.
The 20-year-old lightweight faces Steffy Bull in his 12th professional fight as part of the undercard.
"Knowing American TV will be there has made me train harder for this fight," Khan, whose parents are from Pakistan, told reporters.
Comments will be moderated. Keep comments relevant to the article. Remarks containing abusive and obscene language, personal attacks of any kind or promotion will be removed and the user banned. Final decision will be at the discretion of the Taipei Times.