Federer losing form at just the wrong time of year
CLAY FEET The world No. 1 will need to find form quickly ahead of the start of this year's clay season if he wants to secure the one Grand Slam title to elude him so far
The men's tennis tour moves to clay next week, and for Roger Federer, the surface looks more treacherous than ever.
Playing on dirt is all about grinding and grunting and groundstrokes -- the sort of challenge that suits someone like, say, Guillermo "Willy" Canas.
If Federer can't beat Canas on a hardcourt, how will he beat him at Roland Garros?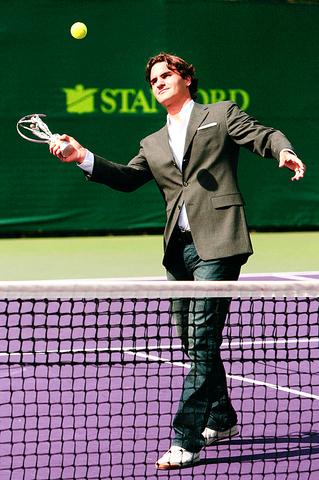 Roger Federer poses with the Laureus World Sportsman of the Year award. Federer was named Laureus World Sportsman of the Year for the third straight time at the 2007 Awards Ceremony in Barcelona on Monday.
PHOTO: AP
Canas ended Federer's 41-match winning streak in the second round at Indian Wells on March 11, then won again on concrete last week when they met in the fourth round of the Sony Ericsson Open. It was the first time since 2004 that Federer lost before the quarter-finals in back-to-back tournaments -- and the same unseeded Argentine beat him both times.
"It's strange for everybody, isn't it?" said Andy Roddick, who is 1-13 against Federer. "I'm as surprised as everybody else."
The next time Federer faces his new nemesis will likely be on clay -- his worst surface, and Canas' best. Perhaps their rematch will come at the French Open, where Federer seeks to complete a career Grand Slam.
Canas, twice a quarter-finalist at Roland Garros, is only one of many potential spoilers. Most prominent is Rafael Nadal, who is 6-3 against Federer and won when they met in the French Open final last year.
An emerging challenger to Federer's supremacy is Novak Djokovic, a quarter-finalist last year at the French Open who won the Sony Ericsson title on Sunday -- by beating Canas.
How did Djokovic succeed where Federer twice failed?
"I cannot now give any advice or tips to Roger," Djokovic said with a smile. "It would be not so nice, you know. He's No. 1 and probably the best player ever in the history of this sport."
Djokovic, a Serb, and Scotsman Andy Murray, both 19, have been touted as future Grand Slam champions.
"Two young players, it's always nice," Djokovic said. "I think it's a great thing for tennis to see Rafael Nadal, Murray and myself playing so well and bringing something so new into tennis."
"I think you all had enough of Federer winning every tournament, so it's good," he added.
Federer begins his 166th consecutive week at No. 1, a record, and leads by such a wide margin he's almost certain to remain on top through Wimbledon. He has won the past three major events and needs four more Grand Slam titles to equal Pete Sampras' record of 14.
But he has repeatedly stumbled on clay, like many other Grand Slam champions. Federer knows the history: Sampras, Boris Becker, Jimmy Connors, Stefan Edberg and John McEnroe never won the French Open.
For that reason, a title at Roland Garros would elevate Federer's status among the elite. In preparation for Paris, he plans to play three European clay events -- Monte Carlo, Rome and Hamburg.
"I'll be OK for the claycourt season," Federer said. "I'm looking forward to that one. That is obviously the huge goal for me. Since the Australian Open, everything has been planned so I play well at the French Open."
Perhaps his focus on Paris is the reason he failed to win a tournament in March, the first time that happened since 2003. Or perhaps his problem was simply Canas, a former top-10 player who returned to the tour in September following a 15-month doping suspension.
The 29-year-old Argentine doesn't expect a lot of players to ask for his secret against Federer.
"No, because I don't know," Canas said. "Really, I don't know what the key is to beat him. I just try to fight every point."
Comments will be moderated. Keep comments relevant to the article. Remarks containing abusive and obscene language, personal attacks of any kind or promotion will be removed and the user banned. Final decision will be at the discretion of the Taipei Times.