Barbosa, Suns stop Mavs
Leandro Barbosa scored 29 points and the Phoenix Suns beat the Dallas Mavericks 126-104 on Sunday for the second time in 18 days.
The Suns snapped Dallas' nine-game winning streak and the teams with the best records in the NBA finished their season series 2-2.
Amare Stoudemire added 24 points and Steve Nash had 23 and 11 assists for Phoenix. After a scoreless first quarter, Shawn Marion had 20 points on 8-for-10 shooting. He also frustrated Dallas' Dirk Nowitzki, who scored 21 but was just 6-of-18 shooting.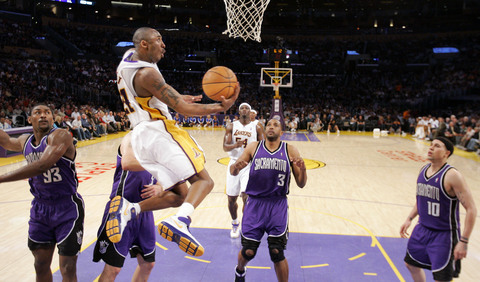 Kobe Bryant of the Los Angeles Lakers puts up a shot as the Sacramento Kings' Ron Artest, left, Brad Miller, behind Bryant, Shareef Abdur-Rahim, No. 3, and Mike Bibby look on during the second half of their NBA game on Sunday in Los Angeles. The Lakers won 126-103.
PHOTO: AP
Stoudemire, who scored 41 in the Suns' 129-127 victory at Dallas on March 14, made 10-of-13 shots on Sunday. In the past two games against the Mavericks, Stoudemire was 26-of-32 from the field.
Josh Howard scored 28 for Dallas in a tight first half that featured 13 ties and nine lead changes.
Pistons 94, Heat 88
At Auburn Hills, Michigan, Richard Hamilton scored 17 of his 19 points in the second half, helping Detroit beat Miami.
Hamilton had missed four games with a concussion and the flu and scored only two points in 12 first-half minutes.
Wizards 121, Bucks 107
At Milwaukee, Gilbert Arenas had 19 points and Caron Butler added another 19 before fracturing his right hand early in the second half of Washington's victory.
Jarvis Hayes scored 17 points including two 3-pointers and a basket during a 10-1 run midway through the fourth that put Washington in control.
Bulls 105, Hawks 97
At Atlanta, Luol Deng scored 30 points and Kirk Hinrich had 22 in Chicago's 11th straight victory over Atlanta since April 9, 2004.
Josh Smith finished with 24 points for Atlanta, which has dropped six straight overall. The Hawks never led after Tyronn Lue's 3-pointer made it 78-75 with 10:52 remaining.
Warriors 122, Grizzlies 117
At Oakland, California, Jason Richardson scored 13 of his 26 points in the fourth quarter and Golden State overcame the early ejection of Baron Davis to beat Memphis.
Richardson's spurt helped the Warriors avoid a loss that would have dealt a crushing blow to their playoff hopes.
Raptors 107, Bobcats 94
At Toronto, Chris Bosh had 24 points and Toronto clinched its first playoff spot in five seasons by beating Charlotte.
Juan Dixon added 15 points for the Atlantic Division-leading Raptors, who haven't made the playoffs since 2002.
Jazz 86, Rockets 83
At Houston, Mehmet Okur scored 20 points, Carlos Boozer added 13 and Utah overcame a late deficit to beat Houston and remain ahead of the Rockets in fourth place in the Western Conference standings.
Yao Ming led the Rockets with 35 points, 16 rebounds and four blocks. Tracy McGrady added 20 points.
Celtics 98, Cavaliers 96
At Boston, while LeBron James and Paul Pierce sat out, Delonte West made two free throws with 1.9 seconds left to lift Boston past Cleveland.
Cleveland called a timeout after the foul shots and Damon Jones got off an open 3-point attempt from the right side, but it bounced off the rim as the buzzer sounded.
Timberwolves 105, Magic 104, OT
At Orlando, Florida, Ricky Davis scored a season-high 36 points -- including the winning 3-pointer -- to lead Minnesota past Orlando.
Kevin Garnett, who had 22 points and eight rebounds, sealed the win by blocking Jameer Nelson's driving layup with less than five seconds left.
Pacers 100, Spurs 99
At Indianapolis, Jamaal Tinsley's layup over Tim Duncan with 1.1 seconds left helped Indiana end San Antonio's six-game winning streak.
The Pacers trailed by as many as eight points in the fourth quarter, but bounced back to snap a four-game losing streak. They pulled the upset without Jermaine O'Neal, their leading scorer, who sat out with a sore left knee.
Lakers 126, Kings 103
At Los Angeles, Kobe Bryant had 19 points and a season-high 13 assists to lead Los Angeles over sinking Sacramento.
On the way to his ninth double-double of the season, Bryant was content to set up his teammates for most of the game, lobbing passes in to Luke Walton and Kwame Brown or driving and kicking the ball out to the open man.
Nuggets 114, SuperSonics 103
At Seattle, Carmelo Anthony scored six straight points midway through the fourth quarter, Allen Iverson took over in the closing moments and Denver snapped a three-game losing streak.
Anthony finished with 32 points. He scored 17 in the first half, then gave way to Iverson, who finished with 26 points.
Comments will be moderated. Keep comments relevant to the article. Remarks containing abusive and obscene language, personal attacks of any kind or promotion will be removed and the user banned. Final decision will be at the discretion of the Taipei Times.