Mets down Cards in Major League Baseball opener
The St. Louis Cardinals raised their first World Series banner in 24 years on Sunday, but the New York Mets dampened the celebrations with a 6-1 opening day win.
The Mets got six strong innings from Tom Glavine, who notched his 291st career victory and out-dueled Cardinals ace Chris Carpenter.
Carlos Delgado opened the scoring with a two-run double and Paul Lo Duca drove in three runs for the Mets, who tied for the most wins in the majors last season with 97 before falling to St. Louis in seven games in an exciting National League Championship Series.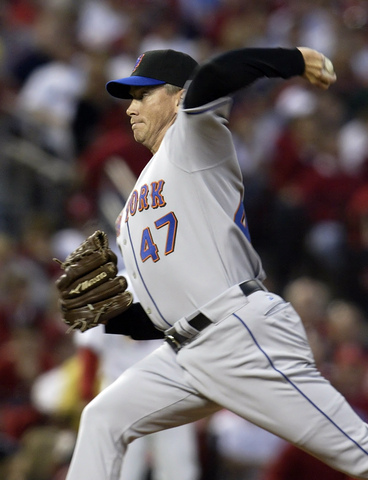 The New York Mets' Tom Glavine pitches in the first inning against the St. Louis Cardinals in their opening-day baseball game on Sunday in St. Louis, Missouri. The Mets won 6-1.
PHOTO: AP
With Mets star righthander Pedro Martinez out until after the All-Star break with a rotator cuff injury, 40-year-olds Glavine and Orlando Hernandez will be counted on to lead a rotation that also includes second-year starter John Maine and unproven hurlers Oliver Perez and Mike Pelfrey.
Glavine put to rest any concerns that his age was finally catching up to him, yielding a run, six hits and a walk while striking out two to remain undefeated in his career when having a five-run lead. He also moved within nine wins of becoming the fifth lefthander all-time to reach 300 wins.
The game kicked off what promises to be a landmark baseball season.
San Francisco's Barry Bonds pursues a bittersweet bid for baseball history, with the controversial San Francisco Giants slugger needing 22 home runs to break Hank Aaron's hallowed all-time US mark of 755.
But Bonds' links to the Bay Area Laboratory Co-Operative steroid scandal have made him a pariah in the eyes of many baseball fans, who consider his batting statistics tainted.
For those weary of the Bonds saga and baseball's apparent inability to come to grips with doping, Japan's Daisuke Matsuzaka is a welcome antidote.
The 26-year-old righthander was a high-school legend and a hero for the Seibu Lions before accepting a six-year contract worth US$52 million to join the Boston Red Sox.
Matsuzaka, who is nicknamed "Dice-K," and his awe-inducing gyroball pitch join a veteran staff that features Curt Schilling, Josh Beckett and knuckleball specialist Tim Wakefield.
Such a stacked pitching lineup could give the Sox an edge over the New York Yankees in their American League East division feud.
Boston was scheduled to launch their season yesterday at Kansas City with Schilling on the mound.
The Yankees were also to see action yesterday, as are the Detroit Tigers, the defending American League champions, who return most of their pennant-winning lineup.
The Giants and Bonds open their season on today, when they host the San Diego Padres.
Comments will be moderated. Keep comments relevant to the article. Remarks containing abusive and obscene language, personal attacks of any kind or promotion will be removed and the user banned. Final decision will be at the discretion of the Taipei Times.