Djokovic defeats Canas to win Sony
PLAYING WITH FLAIR The Serbian won every set that he played at Key Biscayne and ripped off his shirt and threw his racket into the crowd after his winning forehand
Novak Djokovic whacked the tournament's final shot for a winner, then collapsed on his back, sprawled at the baseline.
Djokovic rose to embrace his opponent and climbed into the stands to hug his parents. He returned to the court and threw his shirt and racket to the cheering crowd.
The kid plays with flair and celebrates the same way.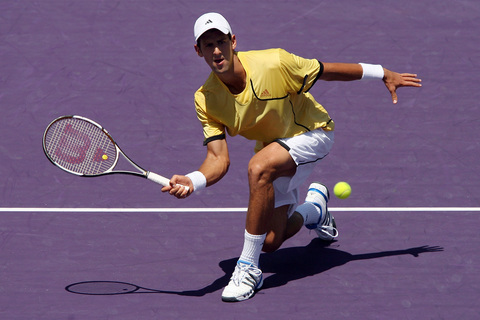 Novak Djokovic of Serbia returns to Argentina's Guillermo Canas during the Sony Ericsson Open men's final at the Tennis Center at Crandon Park in Miami on Sunday. Djokovic won 6-3, 6-2, 6-4 to claim the tournament's title.
PHOTO: AFP
Djokovic managed to succeed where Roger Federer failed, beating qualifier Guillermo Canas 6-3, 6-2, 6-4 to win the Sony Ericsson Open on Sunday.
Canas upset top-ranked Federer twice last month, including in the fourth round here.
But the 29-year-old Argentine's relentless baseline game failed to faze the 19-year-old Djokovic, who dominated with his versatile shotmaking and held every every time he served.
"I hope this is only the start," said Djokovic, who was runner-up at Indian Wells, California two weeks ago. "I was always trying to compare myself to the best players in the world, because that's what I want to be."
"Right now I feel like probably for the first time in my career I'm on that level, that I deserve to be one of the three best players in the world," he said.
Ranked 10th for the Sony tournament, Djokovic improved to a career-high No. 7 in the new list yesterday.
With his first ATP Masters Series title, the slender Serb became the youngest men's champion in the tournament's 23-year history.
Djokovic won every set he played -- the first time the Key Biscayne men's champion has done that since Ivan Lendl in 1989.
"Tennis has a new star today," tournament chairman Butch Buchholz said.
"He's going to be around," he said.
Djokovic has already put Serbia back on the tennis map.
The nation touts a modest tennis tradition aside from Monica Seles, a nine-time Grand Slam champion who was in the crowd on Sunday.
"I'm very happy about that because she was one of my idols when I was young," Djokovic said.
The crowd roared when Djokovic skipped a forehand winner off the baseline on match point, and his exuberant celebration kept the cheers coming.
Once he was shirtless, he waved his racket around in several directions before throwing it to a delighted young woman in the front row.
"It was a very emotional moment for me," Djokovic said. "I was thinking even to put away my shoes and shorts and everything. But I said, OK, television is here, so I'll keep that."
Canas applauded the young champion.
"He's a great player," Canas said. "If he continues like this, he's going to be one of the top three or four players very, very soon."
Canas can take consolation in the resurgence of his career.
"I'm very happy now, but hopefully more happy moments are going to come for me," Canas said. "Now everybody knows I'm back on the tour."
"He has been through a tough period," Djokovic said. "He came back. Well done. He is a great player."
Comments will be moderated. Keep comments relevant to the article. Remarks containing abusive and obscene language, personal attacks of any kind or promotion will be removed and the user banned. Final decision will be at the discretion of the Taipei Times.