Guyana's Muslims angry about Pakistan's early exit
With the local mosque decorated in the green and white colors of Pakistan, Wazim Karim dreamed of watching the Asian giants play in the World Cup Super Eights here.
But like many others around the world, the 28-year-old was left devastated and angry after the early exit of Inzamam-ul-Haq's team.
Another fan, outraged by Pakistan's shock departure, ripped up the 50 tickets he had bought for matches here.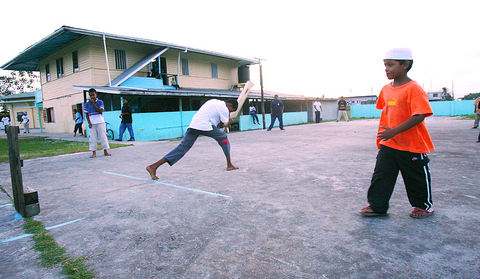 Muslim children play cricket inside a mosque in Georgetown on Thursday. Guyanese Muslims dreamed of watching Pakistan in action during the World Cup Super Eights, but were left devastated after the early exit of Inzamam-ul-Haq's men.
PHOTO: AFP
A chef by profession, Karim agreed to work as a volunteer at the tournament so that he could see the Pakistan team, who were scheduled to play three matches in Guyana, at close range.
Instead, he had to settle for watching debutants Ireland, who beat Pakistan in the first round, begin their Super Eights campaign against England at the National Stadium on Friday.
"For the Muslims of Guyana, it [Pakistan's early exit] was a big wound," said Karim, wearing a Pakistani shirt after playing cricket outside the Grove mosque.
"They are our fellow Muslims and we would have got some good lessons in cricket and Islam from Mohammad Yousuf and Inzamam-ul-Haq," Karim said of the former Pakistan captain and batsman, who now sport beards and also preach.
Yousuf converted from Christianity to Islam in 2005 and said his conversion helped him achieve more discipline and success.
For some, cricket is a common religion here in a country which also sees Hindu and Christian festivals celebrated with equal fervor.
"I am missing both India and Pakistan for we have people here of Indian origin and, without Pakistan and India in the tournament, we don't like to go and watch other teams," Mark D'Souza said.
Ireland dumped Pakistan out of the tournament with a three-wicket win, while India lost to Bangladesh and Sri Lanka to suffer the same fate in the first round.
For the emotional Mohamed Asif, who claims to bowl like Pakistani paceman Shoaib Akhtar, it was something which could "kill" him.
"We can never comprehend what happened to Pakistan and India. Pakistan going home has kept the people away from the stadium here," said Asif, who had initialy bought 50 tickets for Pakistan's three matches before tearing them up.
Comments will be moderated. Keep comments relevant to the article. Remarks containing abusive and obscene language, personal attacks of any kind or promotion will be removed and the user banned. Final decision will be at the discretion of the Taipei Times.