Table-topping Mavericks reach victories milestone
NEAR UPSET The Knicks led 101-100 with 1
Dirk Nowitzki took care of the personal milestone with his first shot. After his final surge, the Dallas Mavericks got their own record.
Nowitzki scored 17 of his 30 points in the fourth quarter, with nine straight in the final 1:56, as the Dallas Mavericks beat the New York Knicks 105-103 on Friday night for their franchise-record 61st victory.
The Mavericks, the top team in the NBA, have won nine straight games.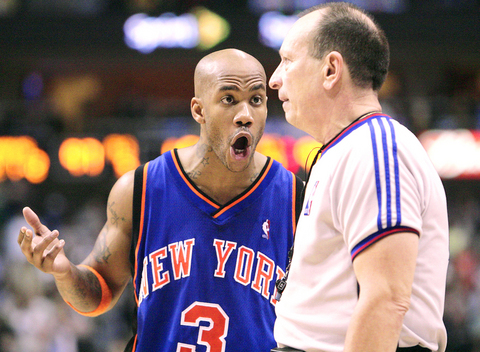 New York Knicks guard Stephon Marbury argues a foul call with an official in the second half of the NBA game against the Dallas Mavericks on Friday in Dallas, Texas.
PHOTO: AP
Stephon Marbury had a season-high 43 points, but his final shot was blocked by Josh Howard and rebounded by Devean George as the game ended. Marbury had twice put the Knicks ahead in the closing stretch, but also had a huge mistake.
A three-point play by Marbury put the Knicks up 101-100 with 1:18 left. Nowitzki then made two free throws, but Marbury answered with another basket.
The Mavericks went ahead for good after Nowitzki passed to a wide-open Jerry Stackhouse. After Stackhouse missed the 3-pointer, Nowitzki grabbed the rebound and made both free throws after being fouled.
Jason Terry then stole a pass by Marbury and hit the second free throw after being fouled with 17 seconds left. Marbury couldn't make up for his mistake, missing his last shot.
On his first basket of the game, Nowitzki surpassed 15,000 points. He came out of Wednesday night's game with a sore left ankle and played only one minute after halftime, leaving him stuck at 14,999.
Spurs 102, Jazz 93
At San Antonio, Manu Ginobili scored 25 points and San Antonio beat Utah for its sixth straight victory.
Tony Parker added 23 points and 11 assists, Tim Duncan had 20 points and 14 rebounds and Michael Finley had 12 points as San Antonio snapped Utah's three-game winning streak. The Spurs have won 16 straight at home against the Jazz.
Both the Jazz and Spurs have clinched playoff spots, with San Antonio in third place in the Western Conference and Utah in fourth. The Jazz fell five games behind the Spurs heading into the final 10 games of the season.
Raptors 123, Wizards 118, OT
At Washington, Chris Bosh scored eight of his 37 points in overtime and Toronto remained in the third spot in the Eastern Conference playoff race.
The Wizards appeared to have a victory secured until Michael Ruffin's celebratory heave toward the rafters landed in the hands of Raptors guard Morris Peterson, whose 3-pointer from 31 feet tied the score at 109 as the horn sounded ending regulation.
Bosh, who made nine of his first 11 shots and had 21 points in the first half, managed only eight points in the second half. He shot 4-for-5 in overtime and blocked Gilbert Arenas' layup attempt with 3 seconds left.
Pistons 110, Nets 105
At Auburn Hills, Mich., Chauncey Billups had 32 points and 14 assists, Lindsey Hunter and Antonio McDyess keyed a fourth-quarter rally and Detroit beat New Jersey.
Rasheed Wallace scored 22 points, but it was the two reserves who led Detroit's fourth-quarter comeback. Hunter and McDyess combined for 22 points and went 8-of-11 in the quarter, including three 3-pointers.
Tayshaun Prince flirted with a triple-double for Detroit, finishing with 15 points, a career-high nine assists and eight rebounds.
In other NBA action it was:
Heat 92, Timberwolves 77; SuperSonics 120, Grizzlies 93;

Suns 125, Nuggets 108;

Bobcats 97, Bucks 81;

76ers 88, Celtics 82;

Magic 95, Pacers 87;

Clippers 105, Kings 101;

Rockets 107, Lakers 104, OT.
Comments will be moderated. Keep comments relevant to the article. Remarks containing abusive and obscene language, personal attacks of any kind or promotion will be removed and the user banned. Final decision will be at the discretion of the Taipei Times.