Mavericks stretch winning streak to 19
ON THE SLIDE Denver Nuggets lost its fourth game in a row, despite 34 points from Carmelo Anthony and 17 rebounds from Marcus Camby
Dirk Nowitzki had 31 points, 11 rebounds and eight assists as the Dallas Mavericks stretched their club-record home winning streak to 19 games with a 115-95 victory over the Denver Nuggets on Saturday.
Nowitzki fell two assists short of his first career triple-double and 28th in the history of the Mavericks, who won their 11th in a row overall.
Josh Howard, playing on a sore right ankle, added 27 points for the Mavericks. Jerry Stackhouse scored 16 for Dallas, which has won 46 of 51 after opening the season at 0-4.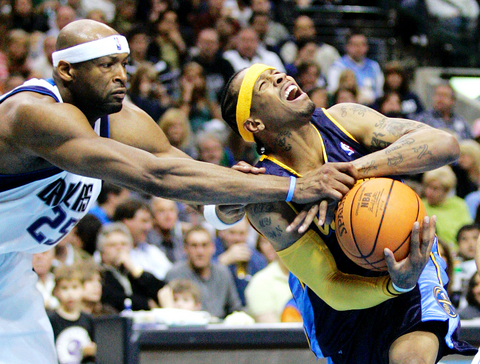 Dallas Mavericks center Erick Dampier grabs Denver Nuggets guard Allen Iverson as he drives to the basket in the second half of the game in Dallas, Texas, on Saturday.
PHOTO: AP
Carmelo Anthony scored 34 points and Allen Iverson had 26 for the Nuggets, who lost their fourth in a row. Marcus Camby added 10 points and 17 rebounds for Denver.
Spurs 102, SuperSonics 71
At San Antonio, Tony Parker scored 21 points and Robert Horry added 17 to lead San Antonio to its fifth straight win.
Matt Bonner had 13 points, Manu Ginobili scored 11 and Tim Duncan added six points and 15 rebounds for the Spurs.
Ray Allen scored 12 points to lead the Sonics.
Jazz 105, Celtics 87
At Salt Lake City, Derek Fisher scored 17 of his 21 points in the second half and Carlos Boozer had 16 points and 10 rebounds for Utah.
Deron Williams finished with 10 assists and helped lead Utah's rally in the third quarter after Boston narrowed a 15-point margin down to one but never quite caught the Jazz, who were without starters Mehmet Okur and Andrei Kirilenko.
Bucks 109, 76ers 90
At Milwaukee, Michael Redd and Mo Williams scored 26 points each as Milwaukee beat Philadelphia to snap a seven-game losing streak.
Redd started strong and Williams, who finished 10-of-13 from the field including 5-of-7 from 3-point range, helped finish off Philadelphia, which has now lost five of six.
Andre Iguodala, averaging 17.4 points, scored 18 of his 22 points in the first half and went 9-of-18 from the field for the 76ers. Samuel Dalembert added 15 points, Willie Green scored 11 and Andre Miller had 10 points and 11 assists.
Milwaukee won for just the second time in 13 games and is 4-22 since Jan. 1. The Bucks erased a 12-point first-half deficit and began to steadily pull away in the third. The Bucks started the quarter on a 22-3 run and led by as many as 30 as the game wound down.
Raptors 93, Bobcats 76
At Charlotte, North Carolina, Chris Bosh scored all 24 of his points in the second half and added 11 rebounds to help Toronto snap Charlotte's team-record four-game winning streak.
Bosh, who missed his first five shots and didn't score until midway through the third quarter, dominated the inside after Charlotte lost leading rebounder Emeka Okafor to a strained left calf in the third quarter.
Bobcats leading scorer Gerald Wallace also left in the third quarter with a strained groin and Charlotte quickly wilted.
Clippers 103, Warriors 90
At Los Angeles, Elton Brand had 31 points and 12 rebounds and tied a career high with eight blocked shots to help Los Angeles snap a four-game skid.
Corey Maggette scored eight of his 18 points in the final 5:18 in his sixth start of the season for the Clippers.
Los Angeles has won 11 of the last 15 meetings and six straight at Staples Center. Al Harrington led the Warriors with 24 points.
Comments will be moderated. Keep comments relevant to the article. Remarks containing abusive and obscene language, personal attacks of any kind or promotion will be removed and the user banned. Final decision will be at the discretion of the Taipei Times.