Devils rally, sweep series with Rangers
STIRRING RETURN New Jersey came back from a 2-0 deficit, tying the game in the third period before going on to win their second shootout over New York this year
At New York, Jamie Langenbrunner scored the decisive goal in the shootout after Zach Parise got New Jersey even in the third period and the Devils swept a home-and-home series from the New York Rangers.
Henrik Lundqvist blocked Langenbrunner's drive with his glove, but the puck bounced behind him and went in before he could recover.
Petr Prucha had a chance to tie in the first extra round, but rang a shot off the crossbar.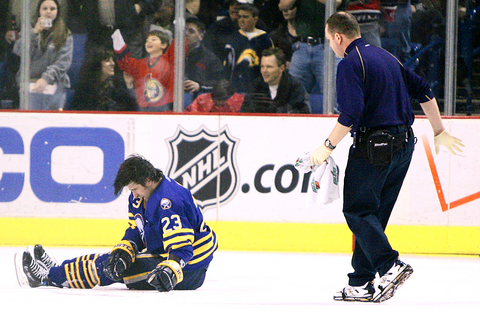 The Buffalo Sabres' Chris Drury, left, is helped by a trainer after suffering an injury to his forehead during the second period of the NHL game against the Ottawa Senators at HSBC Arena in Buffalo, New York, on Thursday.
PHOTO: AP
Parise forced overtime and completed New Jersey's rally from a 2-0 deficit with his 25th goal, scoring with 7:13 left in regulation. Brian Rafalski scored in the second period for the Devils, who won the season series 5-2-1, including two shootout victories.
Marcel Hossa and Prucha scored for the Rangers.
Drew Stafford scored the lone shootout goal, lifting the Buffalo Sabres to a 6-5 win over the Ottawa Senators in a fight-filled game on Thursday.
Stafford also had two assists in helping the Sabres rally from a two-goal deficit and overcome the loss of co-captain Chris Drury, who left the game in the second period with a deep cut across his forehead.
Thomas Vanek scored twice, including his 31st of the season, while Clarke MacArthur and Dmitri Kalinin also scored in a game in which the banged-up Sabres opened already missing seven regulars.
Dany Heatley scored twice and added an assist, while Jason Spezza had a goal and two assists. Daniel Alfredsson and Mike Fisher had a goal and assist each.
Lightning 5, Thrashers 4, OT
At Atlanta, Martin St. Louis scored with 1:16 left in overtime to lead Tampa Bay past Atlanta and into first place in the Southeast Division.
St. Louis fired a shot from the left circle past Johan Hedberg, giving the Lightning the win and 73 points -- one point more than the Thrashers. Brad Richards, Erric Perrin, Vincent Lecavalier and Andrew Roy also scored for Tampa Bay, which trailed Atlanta by 16 points early last month.
Oilers 4, Blue Jackets 0
Dwayne Roloson made 28 saves for his 22nd career shutout and Edmonton beat Columbus to snap a four-game losing streak at Columbus, Ohio.
Shawn Horcoff recorded his first two-goal game of the season and added an assist for Edmonton, which entered needing a win after dropping to 10th place and eight points out of the last Western Conference playoff spot.
Ryan Smyth scored his 30th and added two assists and Ladislav Smid also scored for the Oilers.
Hurricanes 3, Flyers 2, OT
At Raleigh, North Carolina, Glen Wesley scored a short-handed goal 16 seconds into overtime to give Carolina a win over Philadelphia.
Rod Brind'Amour reached the 20-goal mark for the 12th time in his 18-year career and Andrew Ladd added a goal for the Hurricanes.
Comments will be moderated. Keep comments relevant to the article. Remarks containing abusive and obscene language, personal attacks of any kind or promotion will be removed and the user banned. Final decision will be at the discretion of the Taipei Times.