United win overheated match
BEAUTIFUL GAME? Ryan Giggs scored the winner -- a free kick that Lille players felt he took too early -- but the on-field play was overshadowed by violence
Manchester United's 1-0 win over Lille on Tuesday in the Champions League was marred by crowd incidents and a contentious goal.
Real Madrid, however, helped ease the pressure on its coach by beating Bayern Munich 3-2.
Also, PSV Eindhoven beat Arsenal 1-0 and Celtic held AC Milan to a 0-0 in the other first leg matches of the second round.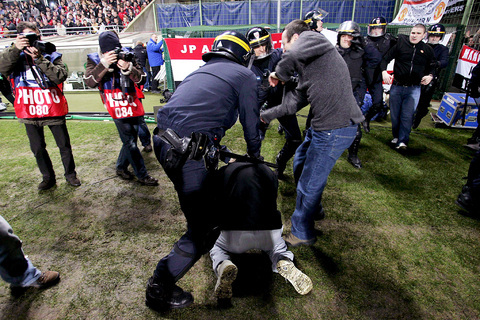 French policemen detain a man during the Champions League soccer match between Manchester United and OSC Lille at Felix Bollaert Stadium in Lens, France, on Tuesday.
PHOTO: EPA
Ryan Giggs scored the winning goal for United, curling in a free kick in the 83rd minute. That prompted an angry reaction from Lille's players, who claimed Giggs had not waited for the referee's whistle and took the free kick too quickly.
"When the goalkeeper asks to place his wall, you should wait for the referee's whistle," Lille captain Gregory Tafforeau said. "There was no whistle at all and the player shot directly and the result is a goal."
Man United manager Alex Ferguson was furious that a Lille coach gestured for the team to come off the field after the goal.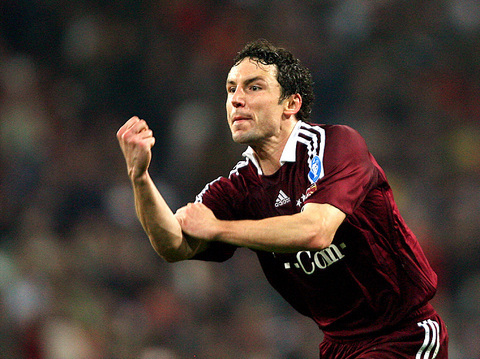 Bayern Munich's Mark van Bommel celebrates after scoring against Real Madrid during a Champions League soccer match at the Santiago Bernabeu stadium in Madrid on Tuesday. Real Madrid defeated Bayern Munich 3-2.
PHOTO: AFP
"I've never seen that," Ferguson said. "It was complete intimidation of the referee. UEFA have got to do something. The Lille coaching staff intimidated the referee and it created a hostile atmosphere."
Lille also had a goal by Peter Odemwingie ruled out because the referee said he pushed United defender Nemanja Vidic.
Soon after the game started, some visiting fans were pushed against a high metal security barrier designed to keep fans off the field. Although several fans were helped over the barrier, there were no reports of any major injuries.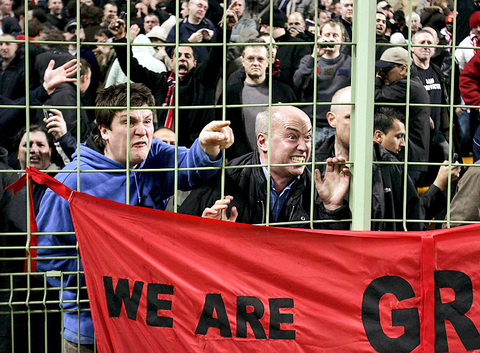 Manchester United fans react during the Champions League first-leg match between Manchester United and OSC Lille at Felix Bollaert Stadium in Lens, Northern France, on Tuesday. Manchester United won 1-0.
PHOTO: EPA
The match was played at nearby Lens because Lille's stadium doesn't meet UEFA's standards.
Madrid got two first-half goals from Raul Gonzalez and another from Ruud van Nistelrooy to give the nine-time champions the edge heading into the second leg.
The victory at the Santiago Bernabeu Stadium may have eased the pressure on coach Fabio Capello, who reportedly offered to quit on Monday, seven months into his second spell in charge.
"The first half was very good and we scored three goals," Capello said. "They improved after halftime with three new players and played some really nice soccer."
Raul, the competition's all-time leading scorer, scored in the 10th and 28th minutes to give him 56 goals. Van Nistelrooy added another in the 34th.
Defender Lucio scored for Bayern in the 23rd, with midfielder Mark van Bommel adding what could be a decisive away goal in the 88th.
Edison Mendez scored in the 61st minute for PSV Eindhoven after controlling a pass from Arouna Kone and sending a long range shot into the bottom corner of Jens Lehmann's goal.
"We showed that if you believe in yourself, it is possible to beat a team the size of Arsenal," PSV coach Ronald Koeman said.
Comments will be moderated. Keep comments relevant to the article. Remarks containing abusive and obscene language, personal attacks of any kind or promotion will be removed and the user banned. Final decision will be at the discretion of the Taipei Times.