Shanahan knocked out cold as Flyers beat Rangers
Scottie Upshall scored a key goal in his Philadelphia debut and the physical Flyers beat the Rangers 5-3 on Saturday.
The game saw New York's Brendan Shanahan leaving the ice on a stretcher after a collision with Mike Knuble.
Following the trade of captain Peter Forsberg on Thursday, the win was Philadelphia's first in 18 NHL games this season without the Swede in the lineup.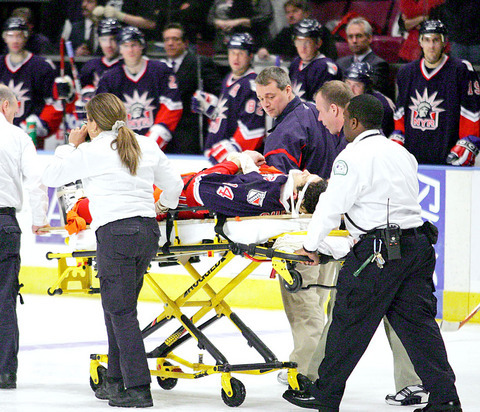 The New York Rangers' Brendan Shanahan is wheeled off the ice after colliding with the Philadelphia Flyers' Mike Knuble during the third period of their hockey game at Madison Square Garden in New York on Saturday.
PHOTO: AP
Shanahan was knocked unconscious in the third period following a hard collision with Knuble.
The veteran forward was taken to a hospital, and the team said that he was alert and moving his extremities.
New York also played the final period without goalie Henrik Lundqvist, who injured his left shoulder making a save, and defenseman Marek Malik.
Upshall scored on the first shot against backup Stephen Valiquette to give Philadelphia a 4-2 lead 2:33 into the third period. Geoff Sanderson, whose shot hurt Lundqvist, R.J. Umberger, Simon Gagne, and Dmitry Afanasenkov also had goals. Antero Niittymaki made 40 saves.
Marian Hossa, Petr Prucha, and Matt Cullen scored for New York.
Senators 5, Thrashers 3
At Ottawa, Dean McAmmond scored with just more than four minutes remaining in regulation to cap a third-period comeback and lift Ottawa to its fourth consecutive victory.
Mike Comrie had scored earlier in the third to tie Atlanta. Chris Kelly, who scored a short-handed goal and had an assist, and Peter Schaefer added goals for Ottawa and Mike Fisher had an empty-net goal.
Spezza and Daniel Alfredsson finished with two assists and Martin Gerber made 28 saves for Ottawa, which gave coach Bryan Murray career win No. 599. Only four coaches in NHL history have reached 600 victories.
Slava Kozlov scored once on the power play and added an assist for the Thrashers, who also got goals from Steve McCarthy and Glen Metropolit.
Comments will be moderated. Keep comments relevant to the article. Remarks containing abusive and obscene language, personal attacks of any kind or promotion will be removed and the user banned. Final decision will be at the discretion of the Taipei Times.