Pistons roll past Clippers
DOUBLE FIGURES All of Edtroit's starters scored at least 10 points in a game that LA played without star Elton Brand, who was scratched because of back problems
Chris Webber had 19 points and nine rebounds and the Detroit Pistons beat the short-handed Los Angeles Clippers 92-74 for their seventh straight victory in the NBA on Monday.
The Clippers were missing Elton Brand, who was a late scratch with back spasms, and fell to 8-19 on the road.
Richard Hamilton scored 15 points and Tayshaun Prince added 14 for Detroit, which had all of its starters score in double figures.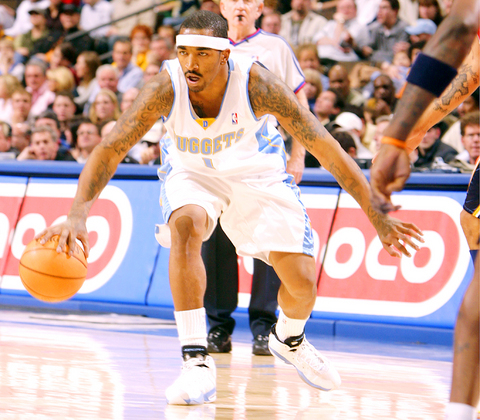 Denver guard J.R. Smith scoops up a loose ball in the third quarter during the Nuggets' 123-111 victory over the Golden State Warriors in Denver, Colorado, on Monday.
PHOTO: AP
Cuttino Mobley led Los Angeles with 17 points and Corey Maggette added 15. Chris Kaman had 13 points and nine rebounds before fouling out in the fourth quarter.
The Pistons led 45-38 at the half, holding the Clippers to 34.2 percent shooting, and took over in the third quarter. Webber had eight points and Hamilton scored five as Detroit opened the second half with a 13-3 run.
Nuggets 123, Warriors 111
At Denver, Carmelo Anthony and J.R. Smith scored 28 points apiece to help Denver get the win.
Anthony sat out much of the fourth quarter after his bruised right thigh, which he hurt in the first half, tightened up on him.
Golden State guard Stephen Jackson was late for the game after testifying in the trial in Indianapolis of a man who hit him with a car during a fight outside a strip club last October. The man was convicted on Monday in a ruling by a judge.
Jackson started the second half and quickly picked up a technical for arguing a call with official Jess Kersey. He finished with nine points.
Denver's Marcus Camby had eight points and seven rebounds in his return from a four-game absence with a pulled groin and the flu.
Al Harrington led the Warriors with 24 points.
Jazz 102, Hawks 76
At Salt Lake City, Mehmet Okur had 19 points and six rebounds before sitting out the fourth quarter as Utah won its fifth in a row.
Andrei Kirilenko had 11 points and four blocks for the Jazz, who are on their longest winning streak since they won eight in a row in November while opening the season 12-1.
Marvin Williams led Atlanta with 15 points. Williams also got a bloody nose when he took a forearm by Utah's Rafael Araujo early in the fourth quarter, which resulted in Araujo getting ejected and Atlanta's Josh Smith getting a technical.
After Araujo left to a standing ovation from the Jazz fans, both coaches pulled their starters.
Comments will be moderated. Keep comments relevant to the article. Remarks containing abusive and obscene language, personal attacks of any kind or promotion will be removed and the user banned. Final decision will be at the discretion of the Taipei Times.