Jussi Jokinen helps Stars beat Ducks 1-0
Jussi Jokinen scored a power-play goal early in the third period and rookie Mike Smith stopped 32 shots for his third shutout as the Dallas Stars beat the Anaheim Ducks 1-0 on Saturday.
The Stars (7-2-1 in their past 10 games) improved to 68 points, moving them within six of the first-place Ducks in the Pacific Division.
Dallas stopped all six Anaheim power plays.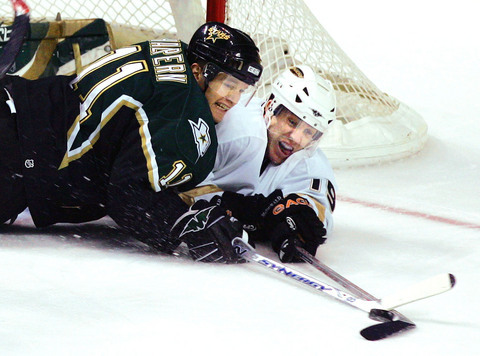 Anaheim Ducks center Andy McDonald and Dallas Stars center Jeff Halpern reach for the puck on the ice during the third period of the NHL hockey game in Dallas on Saturday.
PHOTO: AP
Jean-Sebastien Giguere made 20 saves for the Ducks, 3-6-1 in their past 10 games.
Rangers 5, Capitals 2
At Washington, Jaromir Jagr became the 12th player in NHL history to score 1,500 points, earning three assists to help the New York Rangers beat Washington.
Jagr reached the mark by setting up power-play goals by Michal Rozsival in the first and third periods. The Rangers captain added a third assist with 13:51 left, sending a centering pass that Martin Straka fired past Olie Kolzig.
Straka added an empty-netter with 29.5 seconds remaining.
Alex Ovechkin and Chris Clark scored power-play goals for the Capitals.
Flyers 4, Blues 3
At Philadelphia, Simon Gagne scored his second goal of the game 27 seconds into overtime as Philadelphia snapped its team-record, 13-game home losing streak.
Gagne, who tied the game at 3 with a deflection of Derian Hatcher's shot with 4:55 left in regulation, scored the winner from the right side of the net by redirecting Mike Knuble's shot.
Jeff Carter and Mike Richards also scored for the Flyers, who had not won at home since Nov. 24 when they beat Columbus.
Lee Stempniak, Keith Tkachuk, and David Backes scored for St. Louis.
Sabres 3, Flames 2, SO
At Buffalo, New York, Ales Kotalik scored the lone shootout goal, rallying Buffalo past Calgary.
Daniel Briere, who forced extra time by scoring with 3:32 left in regulation, and Thomas Vanek also scored for the Eastern Conference-leading Sabres (38-15-4), who twice came back from one-goal deficits. Ryan Miller stopped 23 shots through overtime and all three shootout attempts in helping Buffalo win its fifth in six games and fifth straight at home.
Penguins 6, Maple Leafs 5, OT
At Toronto, Jordan Staal scored his third goal of the game at 3:54 of overtime to lead Pittsburgh over Toronto.
Staal has seven goals in five games for the Penguins, who have points in 13 straight games (11-0-2) for the first time since a 14-game run (12-0-2) from Dec. 19 to Jan. 21, 1997.
Maple Leafs center Kris Newbury was taken off the ice on a stretcher late in the third period after a fight with Pittsburgh's Ronald Petrovicky.
The Toronto forward took several punches to the head before falling to the ice.
Evgeni Malkin, Ryan Malone and Maxime Talbot also scored for the Penguins.
Boyd Devereaux, Bryan McCabe, Bates Battaglia, Mats Sundin and Nik Antropov scored for the Maple Leafs.
In other games on Saturday it was: Senators 5, Canadiens 3; Bruins 4, Islanders 3, SO; Panthers 5, Coyotes 2; Kings 4, Predators 1; Wild 5, Hurricanes 4
Comments will be moderated. Keep comments relevant to the article. Remarks containing abusive and obscene language, personal attacks of any kind or promotion will be removed and the user banned. Final decision will be at the discretion of the Taipei Times.