Wade, Heat stomp past woeful Celtics
BASKETBALL Boston, who haven't won a single game since Jan. 5, had a 12-point lead in the first quarter, but Dwyane Wade made sure that their luck didn't change
Dwyane Wade had 30 points and nine assists to lead the Miami Heat to their fifth consecutive victory, beating Boston 91-79 on Wednesday and sending the Celtics to a franchise-record 16th consecutive loss.
Boston led by as many as 12 in the first quarter before the Heat went on a 19-2 run to take the lead for good. Wade had six points and an assist during a 13-4 Miami spurt at the beginning of the third that made it 57-44.
The Heat then started the fourth with a 14-3 run to blow it open.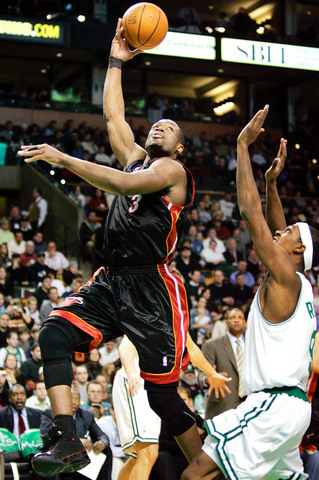 The Miami Heat's Dwyane Wade, left, takes a shot over the head of the Boston Celtics' Rajon Rondo in the third quarter of their NBA game in Boston on Wednesday. The Heat beat the Celtics 91-79.
PHOTO: AP
Shaquille O'Neal scored nine points in 25 minutes as he recovers from knee surgery for the defending champions, who pulled within a game of .500 for the first time since they were 3-3.
Ryan Gomes scored 15 points to lead Boston, which hasn't won since beating Memphis on Jan. 5.
Nets 87, Hawks 85
At Atlanta, Vince Carter made the go-ahead layup with 7.6 seconds remaining, grabbed a critical rebound on Atlanta's final possession, and New Jersey stopped a four-game losing streak.
Carter led the Nets with 22 points and nine boards, while Mikki Moore added 19 points.
After missing a long three-point attempt that ended an overtime loss at Philadelphia two nights before, Carter beat Joe Johnson to the basket and avoided pressure from Josh Childress and Jeremy Richardson to give New Jersey an 86-85 lead in the closing seconds. Richardson, a rookie signed to his second 10-day contract earlier in the day, missed 20-footer that Carter grabbed to preserve the victory with 0.1 seconds left.
Josh Smith led Atlanta with 20 points, but fouled out midway through the fourth.
Hornets 114, Nuggets 112, OT
At Denver, Desmond Mason scored 23 points, including a putback at the overtime buzzer to give New Orleans a wild victory over Denver.
J.R. Smith, who shot only 3-of-13 against his former team, had tied it at 112 with a three-pointer with 17 seconds left.
The Hornets ruined Allen Iverson's return from a four-game absence and won for the 13th time in their last 15 road games. David West and Devin Brown added 17 points apiece.
Carmelo Anthony scored 27 points, Iverson added 22 and Nene 18 for the Nuggets, who blew a 10-point lead in the final minutes of the fourth quarter and lost for the seventh time in eight games.
Raptors 113, Magic 103
At Toronto, Chris Bosh scored a career-high 41 points and outplayed Dwight Howard in a matchup of All-Star big men as Toronto won beat Orlando for a season-high fourth straight win.
Bosh also had eight rebounds for the Atlantic Division-leading Raptors, who have won nine of 11. Toronto entered the day with a three-and-a-half-game lead over New Jersey. Howard had 32 points on 13-for-14 shooting for the Magic, who have lost 11 of 14 to fall to .500 (25-25) for the first time since early November.
SuperSonics 103, Pacers 102
At Indianapolis, Ray Allen scored 33 points and rookie Andre Brown made the go-ahead basket with 23 seconds remaining as Seattle edged Indiana to snap a 15-game road losing streak.
Spurs 110, Wizards 83
At Washington, Tony Parker and Tim Duncan scored 20 points apiece, and San Antonio downed Washington to pull even on its rodeo road trip.
76ers 92, Bobcats 83
At Philadelphia, Andre Iguodala scored 27 points, and Andre Miller had 13 to lead suddenly surging Philadelphia over Charlotte.
Cavaliers 94, Clippers 77
Zydrunas Ilgauskas scored 16 points with a season-high 16 rebounds, Larry Hughes scored 15 points and Cleveland hardly needed LeBron James in an easy victory over the Los Angeles Clippers.
Timberwolves 121, Warriors 93
At Minneapolis, Kevin Garnett had 17 points, 15 rebounds and 10 assists, and Minnesota snapped a four-game losing streak by beating Golden State with its biggest margin of victory this season.
Mavericks 113, Grizzlies 97
At Dallas, Dirk Nowitzki scored 18 of his 38 points in a flawless first quarter, and Dallas beat Memphis to match a franchise record with its 16th consecutive home victory.
Comments will be moderated. Keep comments relevant to the article. Remarks containing abusive and obscene language, personal attacks of any kind or promotion will be removed and the user banned. Final decision will be at the discretion of the Taipei Times.