Police on high alert ahead of Bangkok grudge match
SHOWDOWN A dodgy penalty and strained political ties have contributed to a hostile atmosphere in the build- up to the Asean Cup final
Police in Bangkok will be on high alert today at Thailand's Asean Cup soccer final with Singapore, fearing recently fanned sporting and political rivalries between the two countries could erupt into violence.
The game turned into a grudge match after Singapore scored a 2-1 home victory against Thailand in the first leg of the final thanks to a disputed penalty.
In an action widely criticized outside Thailand as bad sportsmanship, the Thai team stormed off the pitch for 15 minutes to protest the referee's controversial decision to award the 83rd minute penalty to Singapore.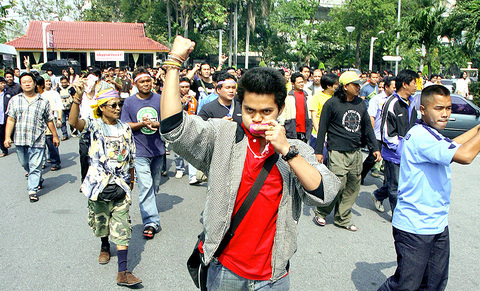 Angry fans shout slogans in protest after failing to get tickets for the upcoming Asean Cup soccer match between Thailand and Singapore in Bangkok, yesterday.
PHOTO: AFP
Thailand's manager has assured Singapore there will be no backlash following last week's highly-charged match when the teams meet today.
Tawatchai Sajakul promised his side would play fairly, although he stopped short of expressing regret for a dramatic first-leg walkout after a dubious penalty was awarded.
"We won't play a rough game because we are at home, we will play as normal. If we win, we will win with fair play," Tawatchai told a news conference yesterday. "There's been a lot of talk and statements about unwelcome incidents that might happen, whatever, we deny that -- you will see something different."
Underlying the tension is anti-Singapore sentiment fanned recently by the Thai media and military, which have accused the island-nation of seeking to spy on Thailand's military communications.
A spat erupted two weeks ago when Bangkok summoned the Singaporean ambassador to protest against a meeting between ousted Thai prime minister Thaksin Shinawatra and one of the city-state's senior Cabinet ministers.
Singapore coach Radoko Avramovic said his players had conducted themselves well in previous matches with Thailand but took a swipe at the hosts for Wednesday's walkout.
"During the King's Cup, we had a red card, our goalkeeper was sent to hospital after we conceded a goal, and we didn't walk off. We just play the game," he told a news conference. "I hope we can finish this competition on good terms."
There were chaotic scenes outside Bangkok's Supachalasai Stadium yesterday as thousands of fans jostled for match tickets in queues hundreds of metres long.
Some 29,000 tickets sold out within two hours of going on sale. About 500 fans, who claimed to have waited in line since dawn, staged a protest over how the tickets were distributed.
Riot police and bomb squad officers will be deployed to prevent angry scenes at today's match, which many Singaporeans have decided not to attend for safety reasons.
Comments will be moderated. Keep comments relevant to the article. Remarks containing abusive and obscene language, personal attacks of any kind or promotion will be removed and the user banned. Final decision will be at the discretion of the Taipei Times.