Peyton Manning: maniac or NFL maestro?
He points, he pivots, he barks out more orders than a waiter in a small restaurant at lunchtime.
When Peyton Manning is running the Indianapolis Colts' offense, it's difficult to decipher if he is supremely commanding a complex machine -- or just frantic.
"That would be impossible to answer without giving away secrets," Manning said with a smile.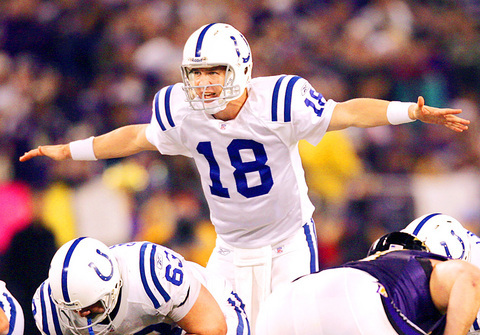 Indianapolis Colts quarterback Peyton Manning signals during the AFC divisional playoff game against the Baltimore Ravens in Baltimore, Maryland, on Jan. 13.
PHOTO: AP
When Manning brings his offense to the line against the Chicago Bears in tomorrow's Super Bowl, at times he will resemble a maestro conducting a finely tuned orchestra. Other times, he'll look like a disoriented traveler seeking directions.
"To me, our offense, like any offense, is about execution," said the National Football League's leading passer. "We do call certain plays at the line of scrimmage. That's no secret there.
"I think you have to be confident in your offense. That's part of playing in the NFL, and the reason you have confidence is because of how hard you worked and how hard you prepared. I've used this quote before, but my dad gave it to me when I was a kid. It was by Chuck Noll, which said, `Pressure is something that you feel only when you don't know what you are doing.'"
Do his teammates and coaches know exactly what Manning is doing when he gestures toward the defense? Or when Manning backs away from center Jeff Saturday as if he can't remember what he's supposed to do?
"We work together so often, when you come to the line of scrimmage, I have a pretty good feel for what he likes, what he sees and if he is going to check [off] or not," said Saturday, who obviously must be in tune with whatever concerto Manning is leading on each play. "He sees things that I would not see, because of my position.
"When I am down in my stance, he can see things so much better. He does a good job throughout the week of pulling guys aside and saying, `Hey, I see this, or I am going to get to this, do you like it?' He makes sure that as you prepare for the week, you feel comfortable on Sunday of knowing what checks we are going to go to," Saturday said.
No other quarterback performs all those machinations. Few -- Brett Favre, Tom Brady on occasion -- call or change plays at the line as much as Manning. In offensive coordinator Tom Moore's system, which Manning has played under since he was the No. 1 overall draft choice in 1998, most of the decision-making is left in the quarterback's hands.
But don't watch the hands if you're playing defense against him.
"You can't get caught up in all of that," Bears defensive end Adewale Ogunleye said. "We're not going to worry about the audibles, we're not going to worry about what he's doing at the line of scrimmage. At the end of the day, he's going to have to call a play and snap the ball."
Comments will be moderated. Keep comments relevant to the article. Remarks containing abusive and obscene language, personal attacks of any kind or promotion will be removed and the user banned. Final decision will be at the discretion of the Taipei Times.