Brodeur shutout keeps Devils on top
FLYING HIGH New Jersey beat the Rangers to extend their Atlantic Division lead to 10 points, while in Atlanta Marian Hossa picked up his second hat trick of the season
Martin Brodeur stopped 26 shots for his NHL-best eighth shutout of the season and the New Jersey Devils opened a 10-point lead in the Atlantic Division with a 1-0 win over the New York Rangers on Tuesday.
Defenseman Brad Lukowich scored in the first period, ending a 20-game goal drought with his second of the season. The surging Devils won for the ninth time in 11 games (9-1-1) and moved 10 points in front of the second-place Rangers.
Penguins 5, Islanders 2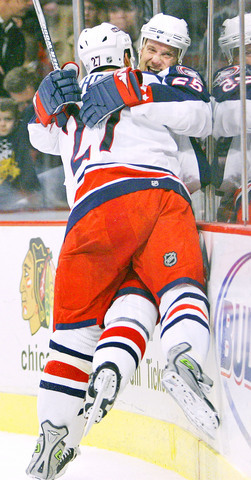 The Columbus Blue Jackets' Manny Malhotra, left, hugs Jason Chimera after Chimera scored the game-winning goal in overtime of their NHL hockey game against the Chicago Blackhawks in Chicago on Tuesday.
PHOTO: AP
At Pittsburgh, Sidney Crosby and Erik Christensen each scored two goals to lead Pittsburgh over the New York Islanders.
Christensen added an assist, and Michel Ouellet had a goal and an assist for Pittsburgh, who moved into third place in the Atlantic Division with their second straight win.
Richard Park and Arron Asham scored for New York.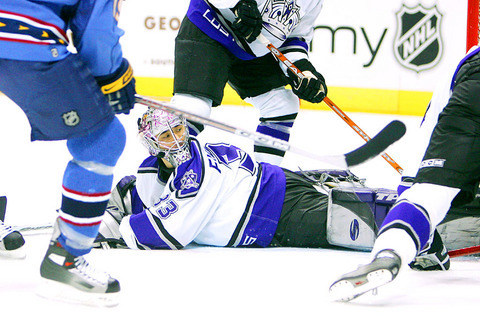 Los Angeles Kings goalie Yutaka Fukufuji of Japan watches as Atlanta Thrashers right wing Marian Hossa, not pictured, of Slovakia scores in the first period of their NHL game on Tuesday.
PHOTO: AP
Thrashers 6, Kings 2
At Atlanta, Marian Hossa picked up his second hat trick of the season and Atlanta defeated Los Angeles, ruining the first start for Kings goalie Yutaka Fukufuji.
Fukufuji, the first Japanese-born player in the NHL, was lifted less than two minutes into the second period after Jim Slater's deflection gave the Thrashers a 3-1 lead. He stopped only six of nine shots.
Blue Jackets 5, Blackhawks 4, OT
At Chicago, Jason Chimera scored at 2:31 of overtime to give Columbus a win over Chicago that snapped the Blue Jackets' four-game losing streak.
Chimera beat Nikolai Khabibulin between the legs with a shot from the right circle to complete a 2-on-1 break.
Sergei Fedorov, Rostislav Klesla, Joe Motzko and Fredrik Modin scored in regulation for the Blue Jackets.
Motzko's goal was his first in the NHL.
Maple Leafs 4, Lightning 2
At Tampa, Florida, Alex Steen snapped a third-period tie with a power-play goal and Andrew Raycroft made 21 saves to help Toronto beat Tampa Bay.
Rebounding from a poor performance in a 6-1 loss to Vancouver last Saturday, the Maple Leafs also got goals from Nik Antropov, Alexei Ponikarovsky and John Pohl, the latter wiping out a 2-1 deficit late in the second period.
Canucks 4, Canadiens 0
At Montreal, Roberto Luongo made 30 saves to post his third shutout of the season and Vancouver won its fifth consecutive road game, beating the slumping Montreal.
Josh Green, Lukas Krajicek, Ryan Kesler and Jan Bulis scored for the surging Canucks, who have won nine of 10 to move past Calgary into first place in the Northwest Division.
Senators 5, Capitals 2
At Ottawa, Mike Comrie scored twice and Daniel Alfredsson had a short-handed goal and an assist as Ottawa extended its winning streak to a season-high five games with a victory over Washington.
Comrie, acquired in a Jan. 3 trade with Phoenix, scored a power-play goal 19:33 into the first. He added his second of the game -- his fourth in four games -- midway through the second to increase Ottawa's lead to three.
Oilers 2, Wild 1
At St. Paul, Minnesota, Joffrey Lupul and Marc-Andre Bergeron each scored a power-play goal, and Edmonton held off Minnesota.
The Oilers, who have the NHL's best penalty-kill unit on the road, held Minnesota scoreless in six power plays to snap a seven-game losing streak against Northwest Division opponents.
Hurricanes 3, Panthers 2, OT
At Sunrise, Florida, Justin Williams scored a power-play goal at 1:47 of overtime to give Carolina a victory over Florida.
With Mike Van Ryn in the penalty box for holding, Williams beat Ed Belfour with a wrist shot over his right shoulder. Scott Walker and Erik Cole also scored for Carolina, which improved to 17-0 this season when leading after two periods.
Blues 6, Ducks 2
At Anaheim, California, Eric Brewer had a goal and two assists, Radek Dvorak added three assists and the steadily improving St. Louis breezed past NHL-leading Anaheim.
Petr Cajanek had a goal and an assist for the Blues, who got a short-handed goal from Jamal Mayers to cap a four-goal second period. It was the first short-handed goal given up this season by the Ducks, who were the only team that hadn't allowed one.
Comments will be moderated. Keep comments relevant to the article. Remarks containing abusive and obscene language, personal attacks of any kind or promotion will be removed and the user banned. Final decision will be at the discretion of the Taipei Times.