Bryant, Lakers win in overtime
TEAM EFFORT Five Los Angeles players helped out by scoring in double digits and Luke Walton played a strong game with 10 points and 10 rebounds
Kobe Bryant scored six of his 25 points in overtime, Brian Cook also had 25 including the go-ahead 3-pointer, and the Los Angeles Lakers beat the Miami Heat 124-118 in the NBA on Monday.
Bryant added eight assists, the last setting up Cook for a 3-pointer that gave the Lakers a 117-114 lead with 2:34 left in overtime.
The Lakers shot 14-of-25 from beyond the arc. Cook also had 10 rebounds, a season-high four assists and three blocked shots.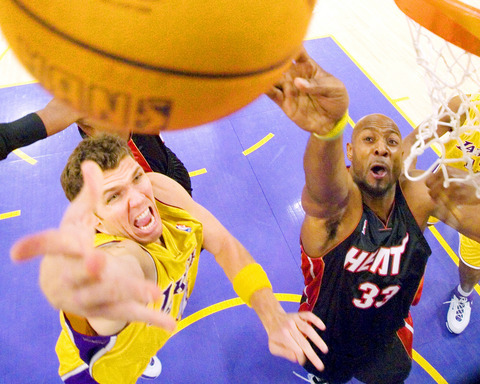 The Los Angeles Lakers' Luke Walton, left, shoots a layup while being defended by the Miami Heat's Alonzo Mourning during the first half of their NBA game on Monday in Los Angeles. The Lakers won 124-118.
PHOTO: AP
Smush Parker scored 17 points, Maurice Evans added 12, Andrew Bynum and Vladimir Radmanovic scored 11 each and Luke Walton had 10 points and 10 rebounds for the Lakers.
Dwyane Wade led the Heat with 35 points and eight assists. Udonis Haslem added 20 points and 11 rebounds, James Posey scored 16 and Alonzo Mourning had a season-high 15 rebounds.
Wizards 114, Jazz 111
At Washington, Gilbert Arenas had 51 points, including a 3-pointer as the final horn sounded, and Wash-ington snapped a two-game losing streak.
Carlos Boozer's putback of Derek Fisher's 3-point airball tied the score at 111 for Utah with 11 seconds left before Arenas' shot.
Bucks 99, Bobcats 91
At Charlotte, North Carolina, Earl Boykins scored 30 points and Andrew Bogut added a career-high 27 points to power banged-up Milwaukee over Charlotte.
The Bucks, minus four starters, snapped a five-game losing streak behind the 1.65m Boykins.
Knicks 102, Kings 97
At New York, reserve Jamal Craw-ford scored eight of his 10 points in the final 1:07 as New York handed Sacramento a season-high sixth straight loss.
Stephon Marbury scored 25 points and Eddy Curry added 24 points for the Knicks.
Raptors 104, 76ers 86
At Philadelphia, Chris Bosh scored 27 points and Joey Graham had 18 to lead Toronto, which used a pair of 14-0 runs to defeat the worst team in the Eastern Conference.
Bulls 99, Spurs 87
At Chicago, Kirk Hinrich had 23 points and 10 rebounds and Ben Gordon scored 20 to lead short-handed Chicago.
Manu Ginobili had 22 points and Tim Duncan added 21 points and 16 rebounds for San Antonio, which saw its four-game winning streak snapped.
Hawks 100, Celtics 96
At Atlanta, the Hawks recovered after blowing a 14-point lead to win consecutive games for the first time since November.
Josh Childress blocked a 3-point attempt by Boston's Gerald Green with 3.9 seconds remaining and Zaza Pachulia made two free throws with 2.1 seconds left to preserve the win.
Nets 105, Pacers 95
At East Rutherford, New Jersey, Vince Carter scored 31 points and Jason Kidd added 19 and narrowly missed his second triple-double in three games to pace New Jersey.
Al Harrington led the Pacers with 18.
Timberwolves 94, Pistons 90, OT
At Auburn Hills, Michigan, Kevin Garnett had 19 points and 14 rebounds, Ricky Davis scored 21 and Mark Blount made a key 3-pointer to seal the win for Minnesota.
Blount's 3-pointer -- just his fourth of the year -- beat the shot clock with 12.8 seconds left to give the Timberwolves a 92-88 lead.
Warriors 108, Clippers 93
At Oakland, California, Baron Davis had 19 points, 13 assists and keyed a big fourth-quarter run that helped Golden State snap a three-game losing streak.
Davis, who shot just 4-for-18 from the field, had four points, two assists and a big steal during the 19-2 run that gave the Warriors a 100-85 lead midway through the final quarter.
Suns 137, Grizzlies 132
At Memphis, Tennessee, Amare Stoudemire scored a season-high 42 points and grabbed nine rebounds to lead Phoenix over Memphis.
Stoudemire shot 15-of-21 from the field and 12-of-13 from the line.
Comments will be moderated. Keep comments relevant to the article. Remarks containing abusive and obscene language, personal attacks of any kind or promotion will be removed and the user banned. Final decision will be at the discretion of the Taipei Times.