De Villiers loses Dakar Rally lead
UPS AND DOWNS The VW driver's difficulties handed the overall cars lead to Mitsubishi, while Janis Vinters was the first motorcycle rider to finish
France's Stephane Peterhansel, seeking a third Dakar Rally crown, moved into pole position after rival Giniel De Villiers' Volkswagen engine burned out.
It was France's Jean-Louis Schlesser, driving a Ford, who won Monday's 497km stage between Tichit and Nema, ahead of countrymen Luc Alphand, the reigning champion, and Peterhansel.
Peterhansel, in a Mitsubishi, jumped into the overall lead at the expense of overnight leader De Villiers of South Africa, and is now almost eight minutes ahead of Alphand.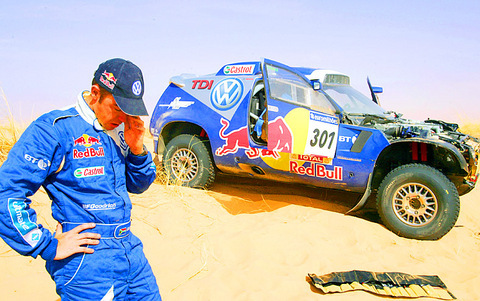 Giniel De Villiers looks dejected after his Volkswagen's engine burnt out during the ninth stage of the Dakar Rally between Tichit and Nema on Monday.
PHOTO: AFP
"We had mixed emotions when we saw De Villiers' car on fire," Peterhansel admitted. "Of course it's important for the overall rankings but we think he did not deserve it. He was doing his best Dakar and driving wonderfully well."
"A few kilometers further, we also had trouble of our own when we fried our clutch. We had to repair and lost 15 minutes. Standings are never set in stone in the Dakar. It's nice to be in the lead for the first time in the rally," he said. "But now we have to finish the next four stages. Pressure is on our side now."
Stage winner Schlesser, overall champion in 1999 and 2000, had his sights set firmly on moving into contention for the podium.
"We are only two minutes behind Nasser al-Attiyah," he said. "Well, we'll pass him tomorrow. I'm happy because it was a difficult stage, for instance the whole section with a lot of sand, which is not an advantage for us."
"Three days ago, Volkswagen was untouchable; I thought they were. I still believe that if they had not had problems, they could not possibly have lost," he said.
"As far as I'm concerned, I will now focus on how to get a position in the top three. My concern is that there are still two to three hard days ahead on terrains where my immediate rival Nasser al-Attiyah should do better than I with his 4x4," he said.
In the moto section, Latvian rider Janis Vinters won the stage ahead of Cyril Despres of France and Spain's Marc Coma, who retained his lead overall.
Vinters allowed himself a slap on the back for some good riding.
"It was a very fast stage during which I could show my skills on sandy ground," he said.
"It's really the terrain I prefer. I did this stage alone almost all of the time. It's the first time I've won a special stage and I am thrilled. I am very surprised at the gap. If I had been told how far ahead I was, I would probably have slowed down to safeguard victory," Vinters said.
"No celebration tonight but in Dakar we'll celebrate for sure," he added.
Yesterday's 10th stage around Nema will see competitors race a 376km special.
Comments will be moderated. Keep comments relevant to the article. Remarks containing abusive and obscene language, personal attacks of any kind or promotion will be removed and the user banned. Final decision will be at the discretion of the Taipei Times.