Goydos storms Sony Open 10 years after first victory
Paul Goydos, more than 10 years removed from his first PGA Tour victory, finally captured another on Sunday with a storming finish in the US$5.2 million Sony Open.
Goydos nabbed four birdies on the back nine en route to a three-under 67 that gave him a 14-under total of 266 and a one-shot victory over Charles Howell and England's Luke Donald.
Goydos' chip on the par-five 18th hit the pin and left him to tap in for the win that he admitted left him "stunned."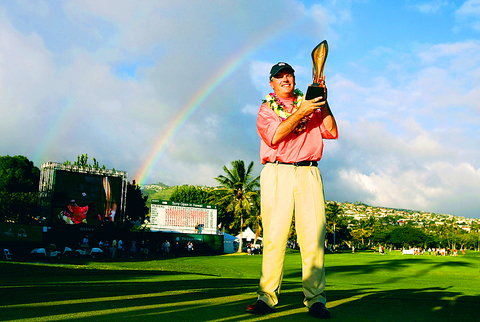 Paul Goydos holds the winner's trophy after his 14-under-par victory during the final round of the Sony Open on Sunday at Waialae Country Club in Honolulu, Hawaii. Goydos last won a PGA event at the Bay Hill Invitational in 1996.
PHOTO: AFP
"I do try to win every decade, so I've accomplished that," quipped Goydos, whose only previous win came at the Bay Hill Invitational in 1996.
Less than three months after finishing second in his final event last year to keep his exempt status this year, the 42-year-old Californian overcame a sluggish start to the final round to collect the first prize of US$936,000.
He three-putted the first hole and third hole for bogeys, missing a short put at the latter, but picked up six birdies and one more bogey the rest of the way in a three-under 67.
Goydos stuck his nose in front with a 5m birdie at the par-four 16th, but fell back into a tie with Howell with a bogey at 17.
His second shot at the 18th came up short of the green, 8m from the hole, and he hit his chip a little thin.
Fortunately, the flag was in the way to stop the ball from running well past the hole and the subsequent birdie ultimately proved good enough.
"Luckily the ball hit the hole," Goydos said. "I never thought it could go in. I'm very fortunate to be sitting here right now."
He still had to dodge two other bullets. First, Donald had a 29m eagle chip to force a tie, and his ball also struck the pin but failed to drop.
"It always had a good line but it was going very fast," Donald said. "It would have taken a bit of luck to go in."
Howell then had a chance to force a playoff, but his 5m birdie putt was wide all the way, condemning him to another agonizing near-miss, his ninth runner-up finish on tour.
His lone victory came back in 2002 in an event that no longer exists.
"This one hurts," said Howell, repeating the words three times.
It was all the more painful since he held a two-shot lead at the turn but was two-over coming in.
Goydos admitted his victory left him "stunned."
"I was just trying to hang in there and try to take it one shot at a time," he said. "Things weren't going well early. After the third hole, I really played pretty good and just kept grinding it out. Luckily I made a couple of long [putts] on 15 and 16, and got as lucky as you can get on 18."
Comments will be moderated. Keep comments relevant to the article. Remarks containing abusive and obscene language, personal attacks of any kind or promotion will be removed and the user banned. Final decision will be at the discretion of the Taipei Times.