Lakers disrupt Mavericks' winning streak
Sasha Vujacic scored nine of his career-high 16 points in the fourth quarter and the Los Angeles Lakers beat Dallas 101-98 to snap the Mavericks' 13-game NBA winning streak on Sunday.
Kobe Bryant had 26 points, eight rebounds and six assists and Luke Walton scored 21 for the Lakers, who presented coach Phil Jackson with his 900th victory.
Jackson ranks ninth on the NBA's all-time wins list, and became the fastest to reach 900, doing so in 1,264 games. Former Lakers coach Pat Riley accomplished the feat in 1,278 games.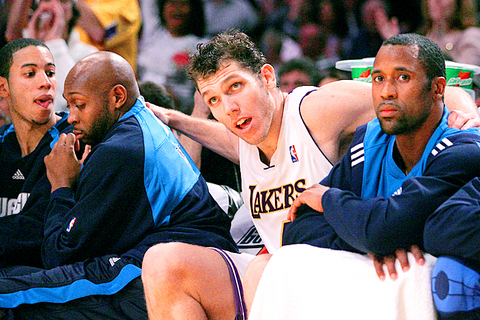 The Lakers' Luke Walton sits on the Dallas Mavericks bench after going out of bounds for a loose ball during the second half of an NBA game on Sunday in Los Angeles. The Lakers won 101-98.
PHOTO: AP
Dirk Nowitzki had 29 points and 13 rebounds, Josh Howard had 20 points and nine rebounds, and Jerry Stackhouse scored 14 for the Mavericks.
Suns 128, Warriors 105
At Phoenix, James Jones scored 25 points, two shy of his career high, and Phoenix cruised to its sixth win in a row.
Fellow reserve Leandro Barbosa scored 26 and Shawn Marion had 24 points and 17 rebounds in the Suns' 22nd victory in their last 24 games. Steve Nash had 14 points and 10 assists, then didn't play in the fourth quarter.
Monta Ellis scored 22 for Golden State but committed nine of the Warriors' 25 turnovers and was in foul trouble for much of the night. Baron Davis scored 17 and Kelenna Azubuike 16. Mickael Pietrus and Mike Dunleavy added 15 apiece for the Warriors.
Golden State's Andris Biedrins matched his career high with 17 rebounds.
Raptors 116, Wizards 111
At Toronto, Chris Bosh had 24 points and 15 rebounds to lead Toronto over Washington.
T.J. Ford, back after missing three games with a sprained right ankle, added 20 points for the Raptors, who had six players score in double figures.
Gilbert Arenas had 33 points, but went 7-for-19 from the field for the Wizards, whose three-game winning streak ended. Antawn Jamison had 17 points and 14 rebounds. Caron Butler added 24 points.
Timberwolves 103, Rockets 99, OT
At Minneapolis, Kevin Garnett had 26 points and 13 rebounds, and Mark Blount continued his recent strong play for Minnesota adding 21 points and 10 rebounds.
The Timberwolves have won four straight, including the last three in overtime. They have won seven of their last nine overall.
Tracy McGrady scored 31 points for Houston, which saw its five-game winning streak come to an end. It was McGrady's fourth 30-point performance in Houston's previous five games. Shane Battier added 20 points for the Rockets and Juwan Howard 19. But Houston went 12-for-19 from the free-throw line while the Wolves were 34-for-40.
Spurs 110, Grizzlies 96
At Memphis, Tennessee, Manu Ginobili scored a season-high 34 points to lead San Antonio.
Ginobili, who averaged 25.5 points in the previous two games, was 10-of-15 from the field, including 6-of-8 from 3-point range.
Robert Horry had 18 points to help San Antonio snap its first three-game losing streak of the season. Michael Finley added 12 points, and Tim Duncan and Bruce Bowen had 10 apiece.
The Spurs played without guard Tony Parker, who injured his right hip against Dallas on Friday.
Pau Gasol led Memphis with 24 points, and Mike Miller, who left the game briefly in the third quarter because of a jammed right thumb, finished with 14. Damon Stoudamire added 13 points, and Alexander Johnson had 10.
Magic 87, Celtics 79
At Orlando, Florida, Grant Hill scored 21 points and Dwight Howard had 18 points and 12 rebounds as Orlando won its fourth straight.
Tony Allen led Boston with 21 points and a season-high nine rebounds, while Delonte West added 13 points and Al Jefferson had 12 points and seven rebounds.
The Celtics played their eighth straight game without Paul Pierce, who is resting a sore left foot, and have won just two of their last 10.
Heat 93, Trail Blazers 90
At Portland, Oregon, Dwyane Wade scored 33 points in his return to the lineup, and Miami beat Portland to snap a five-game losing streak.
Wade, who had 25 points in the first half, had missed four games with a wrist injury. He helped Miami rally from a 16-point deficit.
Brandon Roy led the Blazers with 18 points, but his 3-point attempt at the buzzer fell short.
Comments will be moderated. Keep comments relevant to the article. Remarks containing abusive and obscene language, personal attacks of any kind or promotion will be removed and the user banned. Final decision will be at the discretion of the Taipei Times.