Tiki Barber leaves field still a warrior
ADMIRATION Although the Giants lost the star running back's last game, both his teammates and rivals made their respect for his all-out play known
Tiki Barber walked off the gridiron for the last time in his 10-year career with no regrets, no tears and another big game for the New York Giants.
In keeping with this turbulent NFL season, the 31-year-old running back also walked into retirement with another disappointing loss, but with the admiration of his teammates and his opponents after rushing for 137 yards and having a hand in all four Giants scores in a 23-20 loss to the Philadelphia Eagles in the playoffs on Sunday.
"You're a warrior," Philadelphia Pro Bowl safety Brian Dawkins whispered into his ear as the pair headed off to the locker room.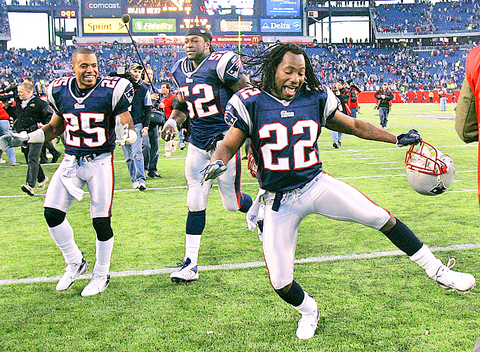 The New England Patriots' Asante Samuel, right, dances a jig as he celebrates with teammates Artrell Hawkins, left, and Eric Alexander, second left, after their 37-16 victory over the New York Jets in their AFC wild-card playoff football game in Foxborough, Massachusetts, on Sunday.
PHOTO: AP
"That meant a lot to me," Barber said.
"That's his mentality of how he plays the game and it made me feel good," he said.
If there is a lasting image Barber will remember, it was being with his peers one last time. It was also knowing he gave it his all every time he was on the field.
Barber's ever-present smile was on his face throughout his 10-minute interview on a podium. There was never a sign of a tear and he made a point to leave the media room after shaking hands with his future peers.
He intends to embark on a career in television next season. Negotiations on a television contract have been in the works for weeks.
He also leaves with no regrets about not winning a Super Bowl. He played in the game in 2001 when the Giants were blown out by the Baltimore Ravens.
"I have come to the conclusion that is not going to define me," Barber said.
"My legacy will be of someone who has played through the ups and downs and good times and bad, and you always knew what you were getting out of me on Sunday. I have never given up. I have never walked off that field without leaving it all on the field," he added.
Barber, whose twin Ronde will continue to play for the Tampa Bay Buccaneers, finished his career with a Giants record of 17,494 total yards, including a record 10,586 rushing yards. His 55 rushing touchdowns and 68 overall are the most in team history and he also leads the team's all-time list in receptions.
Patriots 37, Jets 16
Tom Brady threw for two touchdowns and Asante Samuel's 36-yard interception return for a score with 4:54 left sealed the New England Patriots' defeat of the New York Jets by a score of 37-16 in the NFL playoffs on Sunday.
Brady capped long scoring drives with short touchdown passes to Daniel Graham and Kevin Faulk for the Patriots to continue their quest for a fourth Super Bowl title in six seasons.
New England, the only team to win a playoff game in each of the last four seasons, will visit the San Diego Chargers on Sunday.
Brady improved to 10-2 against the Jets and was in control right from the start.
He finished 22-of-34 for 212 yards and two touchdowns, while Jabbar Gaffney had eight catches for 104 yards. The Patriots also outrushed the Jets by 148 yards to 70 yards.
New England improved to 9-1 at home in the playoffs and has not lost since a 31-14 defeat against the Houston Oilers on Dec. 31, 1978. The Jets made things interesting early, taking a 10-7 lead in the second quarter on a 77-yard touchdown catch and run by Jerricho Cotchery.
The loss ended a surprising run by the Jets, who won their last three regular-season games to get into the playoffs in what was supposed to be a rebuilding season under rookie coach Eric Mangini. The former student of Patriots coach Bill Belichick showed he learned a lot in his six years as a New England assistant, but the teacher still showed he has the upper hand.
After the game, the two coaches, whose relationship has cooled since Mangini left to become coach of the Jets, met at midfield and Belichick hugged Mangini.
Comments will be moderated. Keep comments relevant to the article. Remarks containing abusive and obscene language, personal attacks of any kind or promotion will be removed and the user banned. Final decision will be at the discretion of the Taipei Times.