Schlierenzauer, 16, wins World Cup ski jumping event
Gregor Schlierenzauer, the 16-year-old Austrian, had Saturday's best jumps to win the first event of ski jumping's Four Hills tournament.
Schlierenzauer's third World Cup win gave him the lead in the sport's most prestigious tournament with 296.0 points -- 9.5 more than Andreas Kuettel of Switzerland. Poland's Adam Malysz was third at 280.3.
Making his Four Hills debut, the teenager recorded 135.5m in near perfect conditions for first spot after the first jump. He jumped last on the second with a leap of 142.0m, just 1.5m short of the hill record, and 20,000 spectators broke into wild cheers.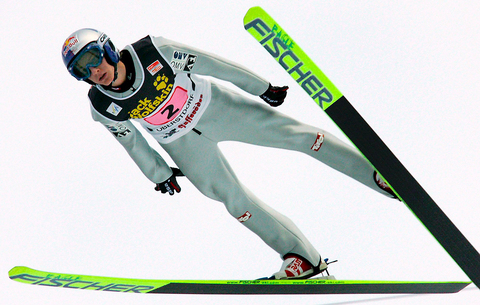 Austrian ski jumper Gregor Schlierenzauer makes his test jump at the 55th Four Hills Tournament at the 'Schattenbergschanze' jump in Oberstdorf, Germany, on Saturday.
PHOTO: EPA
Ecstatic
"It's certainly the best day of my life so far," Schlierenzauer said. "I tried to stay relaxed for the second jump, but I felt a lot of pressure -- but it turned out good."
The Austrian took the lead in the World Cup standings after six of 24 events with 410 points. Switzerland's Simon Ammann, the double gold medalist from the Salt Lake City Olympics, is second at 405 with Anders Jacobsen of Norway third at 396.
Schlierenzauer, the nephew of former luge world champion Markus Prock, is now the favorite to win the overall World Cup title in his first year on the circuit.
Cool
"I try to stay cool and collected, but all these spectators and media, you can feel the expectations," he said.
The next Four Hills stop is at Garmisch-Partenkirchen today.
Comments will be moderated. Keep comments relevant to the article. Remarks containing abusive and obscene language, personal attacks of any kind or promotion will be removed and the user banned. Final decision will be at the discretion of the Taipei Times.