Arenas drops 31 in Washington
GO GILBERT Arenas, ably supported by Antawn Jamison, was on fire for the Wizards once more as he wowed the crowd with deadly three-point shooting
NBAGilbert Arenas scored 31 points and the surging Washington Wizards used a big first half to beat the Memphis Grizzlies 116-101 in the NBA on Tuesday.
The Wizards, who have won 11 of their last 14 games, returned home without missing a beat from a four-game trip in which they averaged 131 points against the Los Angeles Lakers, Denver, Sacramento and Phoenix.
The Wizards scored 45 points in the first quarter, a Verizon Center record for any quarter. It was also a season high, eclipsing the 40 points recorded against the Miami Heat on Dec. 15.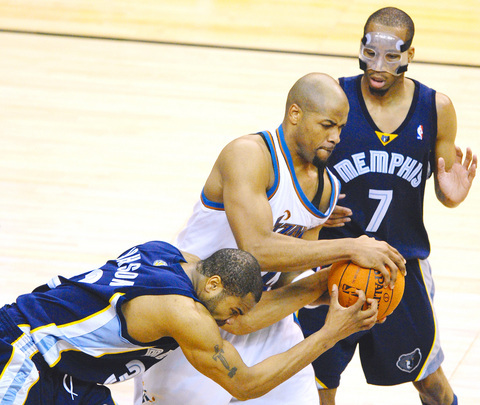 The Memphis Grizzlies' Alexander Johnson, left, struggles for the ball against the Washington Wizards' Jarvis Hayes, center, as the Grizzlies' Tarence Kinsey, No. 7, looks on during the fourth quarter of their NBA basketball game on Tuesday. The Wizards won 116-101.
PHOTO: AP
The Wizards set another Verizon Center mark with 77 points in the first half, eclipsing the 71 they tallied on Feb. 26 of last season against the New York Knicks. Arenas and Antawn Jamison were both perfect on three shots from behind the arc and the Wizards shot 59 percent in the half.
Jamison had 26 points and nine rebounds for Washington. Caron Butler added 19 points, six assists and five rebounds. Brendan Haywood just missed his third consecutive double-double with 15 points and nine boards.
Alexander Johnson led Memphis with 23 points and 10 rebounds.
Pacers 81, Rockets 76
At Indianapolis, Al Harrington had 23 points and 14 rebounds and Jamaal Tinsley scored 17 points for Indiana.
Tracy McGrady returned to Houston's starting lineup after missing seven games with back spasms and finished with 19 points. He shot 7-for-22 from the field and had seven turnovers, including two critical ones in the final 2 minutes while the Rockets were trying to come back.
The Rockets were playing their first game since All-Star center Yao Ming was lost for at least six weeks with a fractured bone beneath his right knee.
It was the fewest points Indiana has allowed this season.
Comments will be moderated. Keep comments relevant to the article. Remarks containing abusive and obscene language, personal attacks of any kind or promotion will be removed and the user banned. Final decision will be at the discretion of the Taipei Times.