Johnson, Chiefs run over hapless Oakland Raiders
Larry Johnson ran for 137 yards and a touchdown to help the Kansas City Chiefs become the first team to beat the Oakland Raiders eight straight times with a 20-9 victory in the NFL on Saturday in Oakland.
The Chiefs (8-7) need to beat the Jacksonville Jaguars next week and get plenty of help from other teams to keep their slim playoff hopes alive.
"All I care about is being 9-7," said defensive end Jared Allen, who recovered two fumbles. "Truthfully, do I think we're going to get in? No. A lot has to happen for us to get in at 9-7. If we do, it's a miracle."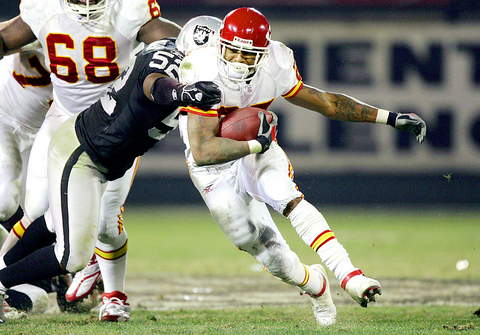 Larry Johnson of the Kansas City Chiefs runs with the ball against Kirk Morrison of the Oakland Raiders during an NFL game at McAfee Coliseum on Saturday in Oakland, California.
PHOTO: AFP
For now, they'll just have to take solace in ending their three-game losing skid and handing another loss to their longtime rivals, who have never been this low during Al Davis' more than four decades with the Raiders.
"Lamar Hunt loved to win these games," Johnson said of the Chiefs' late owner, who died last week. "It's a big rivalry. We always want to beat this team. We never want to give them one win because then they'll be talking about it the rest of their lives."
The Raiders (2-13) have lost eight straight and matched the franchise record for losses in a season, which was set when they went 1-13 in 1962 -- the season before Davis arrived to coach and eventually own the team.
The frustration of a lost season finally appeared to boil over in frustration when defensive leader Warren Sapp threw a tantrum on the sideline late in the first half as Oakland's offense again struggled.
The Raiders could manage only three field goals by Sebastian Janikowski and were held without an offensive touchdown for the seventh time this season.
Comments will be moderated. Keep comments relevant to the article. Remarks containing abusive and obscene language, personal attacks of any kind or promotion will be removed and the user banned. Final decision will be at the discretion of the Taipei Times.