Utah defeats Tulsa with field goals in bowl game
SINCE 1999 The Utes have won all their postseason games in the past seven years, a streak they kept alive this year in winning the Armed Forces Bowl
Louie Sakoda made four field goals, defensive star Eric Weddle ran for a score and Utah won a sixth straight US college football bowl, beating Tulsa 25-13 in the Armed Forces Bowl on Saturday.
The Utes (8-5) have won all of their bowl games since 1999, including two years ago when they were the first non-BCS team to play in the Bowl Championship Series.
That year, they defeated Pittsburgh 35-7 in the Fiesta Bowl to cap an undefeated season.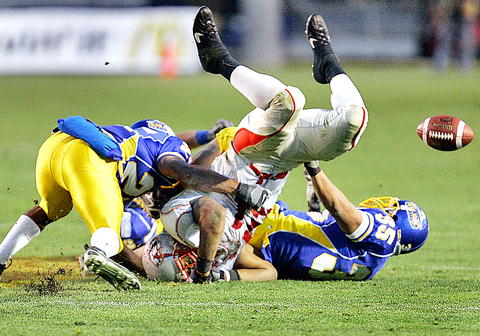 New Mexico's Rodney Ferguson, in white, fumbles the ball as he is tackled by San Jose State's Carl Ihenacho, No. 95, and Jason Evans during the fourth quarter of the New Mexico Bowl college football game on Saturday in Albuquerque, New Mexico. San Jose won, 20-12.
PHOTO: AP
Brett Ratliff was 23-of-34 passing for 240 yards and was credited with a 10-yard touchdown pass in the third quarter for the Utes, though it was actually a designed catch-and-pitch similar to a score in their Fiesta Bowl romp.
Brian Hernandez caught the ball behind the line of scrimmage and pitched to Brent Casteel, who ran around the left end and leaped into the end zone.
Paul Smith scored on a pair of 1-yard keepers for Tulsa (8-5), which finished a once-promising season with its fourth loss in five games.
Boston College also has won six straight bowls.
The Eagles have a chance to extend their streak next Saturday against Navy in the Meineke Car Care Bowl.
Weddle, the two-time Mountain West Conference defensive player of the year who also plays several snaps a game on offense, ran 10 times for 56 yards.
His 4-yard score with 1:05 left in the game was his fifth rushing touchdown this season.
He also intercepted a pass on the final play of the game.
S Florida 24, E Carolina 7
At Birmingham, Alabama, Benjamin Williams led the South Florida Bulls to their first bowl victory, running for two first-half touchdowns against East Carolina in the inaugural PapaJohns.com Bowl.
The Bulls (9-4) played the scoreless second half without quarterback Matt Grothe, who was kicked in the right shin in the second quarter.
The decade-old program's only previous bowl appearance was a shutout loss last year that came in the Meineke Car Care Bowl.
South Florida also tied its season high for wins.
Struggling to make a comeback, East Carolina (7-6) drove inside the South Florida 30 yard line five times in the second half only to fall short.
Williams finished with 67 yards on 17 carries and Grothe threw a long TD pass to Amarri Jackson.
East Carolina's James Pinkney threw a 48-yard scoring pass to Bobby Good.
San Jose St. 20, New Mexico 12
At Albuquerque, New Mexico, Adam Tafralis threw three touchdown passes for San Jose State in the inaugural New Mexico Bowl.
The game extended New Mexico's postseason streak without a win to 45 years.
New Mexico (6-7) hasn't won a bowl game since it beat Western Michigan in the 1961 Aviation Bowl and is 0-5 since 1997.
For the Spartans (9-4), the win provided a final highlight in a year in which they had more wins than the three previous seasons.
Tafralis, who was 11-of-18 for 209 yards, threw scoring passes of 36 and 24 yards to James Jones and 76 yards to John Broussard.
New Mexico's only touchdown came with 15 seconds left in the game on a 15-yard pass from Chris Nelson to Marcus Smith.
Comments will be moderated. Keep comments relevant to the article. Remarks containing abusive and obscene language, personal attacks of any kind or promotion will be removed and the user banned. Final decision will be at the discretion of the Taipei Times.