Barbaro's gifts celebrate recovery
They've written Christmas carols for him. They've sent him "trees" made of baby organic carrots and green apples. Someone even gave him a Christmas stocking.
The devoted fans of Barbaro see the colt's recovery as a wonder that trumps even the Miracle on 34th Street, and this holiday season they want to celebrate -- no matter how much the colt's surgeon insists the recovery is all about science.
The fence that surrounds the sprawling New Bolton Center where the Kentucky Derby winner has been recovering since May from his breakdown at the Preakness has turned into a big Christmas shrine. Its theme: the miracle of Barbaro.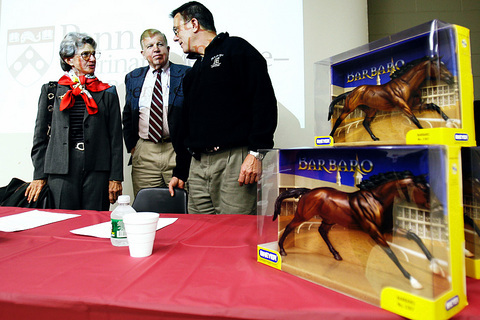 Barbaro's owners, Gretchen and Roy Jackson, and Dean Richardson, center, the surgeon who repaired Barbaro's shattered bones after the colt broke down at the Preakness Stakes on May 20, show models of Barbaro at the University of Pennsylvania's New Bolton Center for Large Animals in Kennett Square, Pennsylvania, on Dec. 13. The company that made the models announced on Wednesday that it was donating US$114,710 of the proceeds from the sales to the New Bolton Center, a large animal hospital in suburban Philadelphia.
PHOTO: AP
"The Miracle is Barbaro's Spirit," reads one.
"May the angels of healing continue to wrap their wings of healing around you," says another.
Some of the signs of devotion are just plain goofy, like the Christmas carol to be sung to the tune of Let it Snow: "Oh, the weather outside is frightful, but my stall is still delightful, and since I've got places to go, let it grow, let it grow, let it grow!"
What has fans so overjoyed is the possibility that Barbaro could leave his intensive care stall by the end of next month and make his way to a Kentucky farm to continue recuperating from laminitis in his left hind leg.
"No one would wish on him this would happen and we'd rather have seen him race and live a normal life, but you have to agree it's been such a positive feeling for people," co-owner Gretchen Jackson said.
"I wonder if people have discovered it's great to be positive rather than negative," she said.
Dean Richardson of the University of Pennsylvania's New Bolton Center is also positive about the colt's recovery. The chief surgeon just doesn't see it as anything more than good medicine.
"It's not a miracle. It's anything but that," he said, sitting next to a Christmas tree topped with a stuffed Barbaro.
"Some of the Barbaro fans aren't going to like that, perhaps. I'm a scientist, I'm a doctor. I'm not a faith healer or a religious person. I believe in the application in science and I think nothing that's happened to him is particularly miraculous," he said.
The doctor might want to keep that to himself.
To help the colt celebrate Christmas, fans have sent him a custom-made halter, an embroidered blanket, a Santa's hat and even his own stocking, which will surely be stuffed with peppermints, sugar cubes and hay.
While the get-well cards and banners will eventually fade or be trashed, the biggest gift has been the US$1.2 million raised since early June for the Barbaro Fund. The money is being put toward equipment like an operating room table and a raft and sling for the same pool recovery Barbaro used after his surgeries.
"We are a teaching hospital that always operates at a deficit," Richardson said. "Help like that is immensely valuable to us."
With two fused joints, Barbaro will never have a normal gait, but the right leg is now solid enough to bear weight.
Comments will be moderated. Keep comments relevant to the article. Remarks containing abusive and obscene language, personal attacks of any kind or promotion will be removed and the user banned. Final decision will be at the discretion of the Taipei Times.