Mellow Dawkins changes into a warrior on the field
Before games, Brian Dawkins transforms from a mild-mannered, Bible-quoting man into a frenzied warrior, running through the tunnel, screaming and posturing as if his body is possessed.
Teammates say they are amazed at how someone so mellow off the field becomes so tenacious once he steps into his role as a starting safety for the Eagles.
"He's like Clark Kent," place-kicker David Akers said. "You're talking about a guy with two different personalities. He's very low-key, very spiritual. But when game day comes, he looks like he's coming out of a cage. He plays nonstop, every single play. As a fan of the game, you almost have to enjoy watching Brian Dawkins."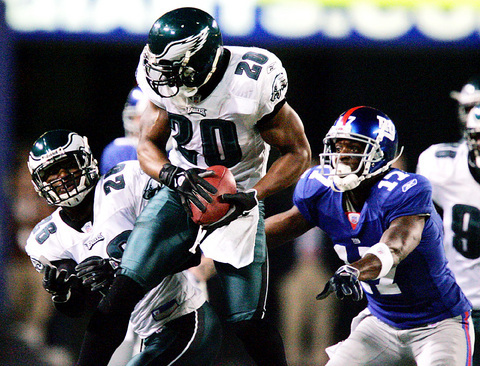 The Philadelphia Eagles' Brian Dawkins, No. 20, comes down with a tipped pass in front of Lito Sheppard, left, and the New York Giants' Plaxico Burress for an interception in the second quarter during NFL football action last Sunday in East Rutherford, New Jersey.
PHOTO: AP
When the Eagles need leadership, Dawkins provides it. He leads them in worship, often as the main speaker during their pregame prayer. He leads their defense as a six-time Pro Bowler, a tenacious tackler who lives by faith but plays with fury. And he leads all current Philadelphia professional athletes in staying power, a fixture with the Eagles for 11 consecutive seasons, outlasting so many others who have come and gone.
In a city known for being tough on athletes, Dawkins appears destined to start and finish his career here, something that Wilt Chamberlain, Charles Barkley, Reggie White and Allen Iverson have failed to do.
While Dawkins does not compare himself to those Philadelphia sports icons, he is proud of a career that has Hall of Fame potential and proud that he has endeared himself to fans.
"Everybody can't play in Philadelphia," Dawkins said on Thursday as he looked forward to a National Football Conference East showdown tomorrow between the Eagles (8-6) and the Dallas Cowboys (9-5).
"You have to have tough skin," Dawkins said. "You have to be able to deal with criticism. You have to ignore booing, because you're going to get booed -- I don't care who you are. You have to look past those things and continue to play your game. Also, you have to go out and put a certain brand of ball on the court, floor, diamond or ice. You have to play a certain way. I think I've done that."
Dawkins is still doing it, showing no sign of losing anything at age 33. On the top shelf of his locker is a figurine collection of his favorite comic-book character, Wolverine of the X-Men. Wolverine is known for his keen senses, allowing him to track adversaries with ease, a trait that describes Dawkins.
His ability to create turnovers makes him one of the NFL's biggest impact players on defense. Watch any Eagles game, and Dawkins is hard to miss: No. 20, with a visor attached to his face mask, pursuing receivers and ball carriers like a lion chasing his prey. He punishes with his hitting, pressures quarterbacks with his blitzing and frustrates receivers with his coverage.
In 2002 against the Houston Texans, Dawkins became the first player in league history to record a sack, an interception, a fumble recovery and a touchdown reception in the same game.
Comments will be moderated. Keep comments relevant to the article. Remarks containing abusive and obscene language, personal attacks of any kind or promotion will be removed and the user banned. Final decision will be at the discretion of the Taipei Times.