Svindal bags giant slalom win
Aksel Svindal won a men's World Cup giant slalom on Thursday to reclaim the overall lead from Bode Miller.
Svindal, who led after the opening leg, raced down the Wertung course in a combined time of 2 minutes, 25.63 seconds to win his first career World Cup giant slalom.
Svindal also took over the lead in the giant slalom standings from Kalle Palander of Finland despite almost no visibility and unpredictable snow conditions on the mountain.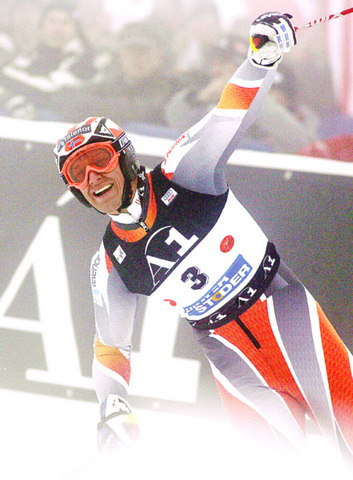 Aksel Svindal of Norway reacts after winning a World Cup giant slalom race in Hinterstoder, Austria, on Thursday.
PHOTO: AP
"Not a typical race, but a good race for me," Svindal said. "I couldn't see a thing but I knew I had to attack; otherwise I would fall behind.
"Let's hope the season continues that way," he said.
Francois Bourque of Canada, who was fifth after the opening run, moved into second place with a stunning second trip through the thick fog blanketing the mountain. His combined time was 2:25.89.
"For sure it was a good day, even if a hard day," Bourque said after posting his best career giant slalom result. "First run was OK for visibility but it got worse and worse for later guys."
In Wednesday's super-G, Bourque finished 49th.
"Yesterday didn't work out so well for me," the Canadian said.
"But I knew I could do tighter turns. It was a good Christmas gift to go home with," he said.
Bourque's best previous giant slalom result this season was a ninth-place finish in Beaver Creek, Colorado.
Palander finished third in 2:26.03.
"I had tough race today," Palander said. "I guess I can be happy with third place. I think everybody who finished and is still alive is happy. The last 15 gates you really couldn't see anything."
Miller, third after the opening leg, lost time the entire way down and dropped to fourth with at time of 2:26.16.
Svindal was the second man this season to post more than one win. He won a super-combi in Colorado last month.
He was 11th in Wednesday's super-G, losing the overall lead to Miller, and Norwegian media called it a "crisis."
"I never had a crisis but some people in Norway thought I had a crisis, so if they're having a crisis when they're sitting in their office with the heating and watching on television, then be my guest," Svindal said.
Comments will be moderated. Keep comments relevant to the article. Remarks containing abusive and obscene language, personal attacks of any kind or promotion will be removed and the user banned. Final decision will be at the discretion of the Taipei Times.