Miller finds new success
Last season, Bode Miller posted just two World Cup victories. He failed to medal at the Olympics and seemed unable to tame his tongue.
Now, in a post-Olympic year with the stage lights turned down for US ski racers, Miller seems to have recovered the magic touch that led to his stardom.
As the tour enters the holiday break with worries about snow cover now beginning to recede, the 29-year-old has amassed three wins and a whole lot of respect.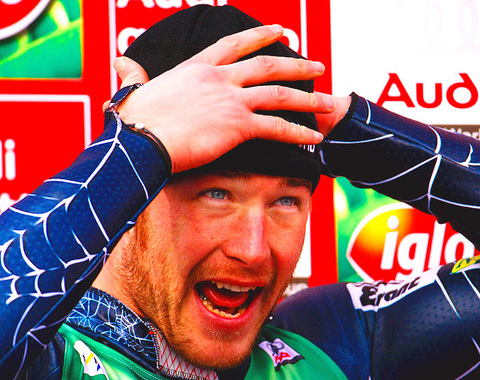 US skier Bode Miller celebrates his victory in the men's Super-G in Hinterstoder, Austria, on Wednesday. Miller has three wins so far this season.
PHOTO: EPA
"Things are starting to come together for me," Miller said.
The 2004-05 champion won a World Cup super-G on Wednesday to climb back atop the overall standings for the first time in a year.
Though he surrendered the lead 24 hours later to giant slalom winner Aksel Lund Svindal, Miller proved once again that he is a real threat to win the sport's most coveted prize.
"Self-confidence is important for the way that Bode Miller skis," said four-time overall champion Hermann Maier of Austria. "And he seems to have plenty of that right now."
That may be, but Miller is unwilling to contemplate the overall race.
"I don't think about it," he said. "But my skiing is definitely there in three events and I think slalom is there, but I need more training and I hope that'll come in January and February."
Though he finished fourth in Thursday's giant slalom, Miller demonstrated he's rediscovered his footing in the first discipline he mastered. The 2004 giant slalom champion also placed second in Alta Badia, Italy, last weekend.
Now, he needs only to rediscover his winning formula for the slalom, in which he has failed to post a result in 11 months.
Miller earned the label as the bad boy of alpine skiing' after a turbulent season in which he declared in a TV interview that he skied "wasted" and showed a lack of interest in the Olympics, where he entered as a favorite in every event but left without a single medal.
Comments will be moderated. Keep comments relevant to the article. Remarks containing abusive and obscene language, personal attacks of any kind or promotion will be removed and the user banned. Final decision will be at the discretion of the Taipei Times.