O'Neal leads Pacers to victory
PILING ON THE MISERY Jermaine O'Neal and Stephen Jackson made sure that the embattled Sixers team will have to wait a bit longer for a win
NBAJermaine O'Neal scored 34 points and grabbed 11 rebounds, and Stephen Jackson had 25 points to lead the Indiana Pacers to a 101-93 win over Philadelphia on Wednes-day, the last-place 76ers' 12th straight loss.
O'Neal and Jackson took turns down the stretch making clutch baskets to hold off a spirited Sixers team playing their first game in more than 10 years without Iverson on the roster.
Andre Iguodala and Kyle Korver each scored 20 points for the Sixers, a night after they traded Iverson to Denver for Andre Miller, Joe Smith and two 2007 first-round picks. Iverson was inactive for his final six games in Philadelphia after a bitter split with the franchise that made him the No. 1 overall draft pick in 1996.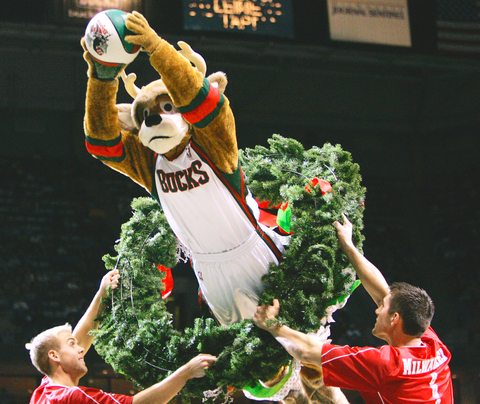 Milwaukee Bucks mascot Bango jumps through a holiday wreath during a timeout in the fourth quarter of an NBA basketball game against the Miami Heat in Milwaukee, Wisconsin, on Wednesday. The Bucks beat the Heat 121-95.
PHOTO: AP
Allen Iverson will probably make his Denver debut on Friday night at home against Sacramento. The Nuggets postponed their game on Wednesday night against Phoenix because of a snowstorm.
No Iverson, and no Chris Webber again, either. Webber missed his third straight game because of a sprained right ankle.
Lakers 111, Timberwolves 94
At Minneapolis, Vladimir Radman-ovic and Maurice Evans combined for 16 points during a 25-2 run in the fourth quarter that rallied Los Angeles past Minnesota.
One night after shooting just 6-of-19 from the floor and fouling out for the first time in more than a year in a loss to Chicago, Kobe Bryant scored 24 points on 10-of-17 shooting. But the Lakers trailed by 10 to start the fourth, and coach Phil Jackson sat Bryant for the first 8 minutes of the quarter to remarkable success.
Radmanovic hit two 3-pointers and Evans punctuated the spurt against his former team with a dunk that gave the Lakers a 100-91 lead with 4:39 to go.
The Timberwolves, especially Kevin Garnett, were stunned. After shooting 62 percent and playing nearly flawless offensive basketball through three quarters, they were outscored 34-7 in the lowest-scoring fourth quarter in franchise history.
In other games, it was: Nets 113, Cavaliers 111; Bucks 121, Heat 95; Spurs 105, Grizzlies 98; Jazz 112, Hawks 106; Magic 86, Hornets 83; Warriors 96, Celtics 95; Knicks 111, Bobcats 109, 2OT; Trail Blazers 89, Rockets 87; Mavericks 103, SuperSonics 95; Raptors 98, Clippers 96.
Comments will be moderated. Keep comments relevant to the article. Remarks containing abusive and obscene language, personal attacks of any kind or promotion will be removed and the user banned. Final decision will be at the discretion of the Taipei Times.