Depleted Knicks upstage Jazz
UNMOVED Seven suspensions as a result of the brawl at Madison Square Garden on Saturday night had little effect on the Knicks and the Nuggets as both teams won
Stephon Marbury's layup just beat the buzzer and gave the undermanned New York Knicks a stunning 97-96 overtime victory over the Utah Jazz in the NBA on Monday.
Two nights after a brawl with the Denver Nuggets that led to 10 ejections, New York -- down to eight players because of suspensions and injuries -- showed the right kind of fight. The Knicks bounced back from a dismal first quarter and knocked off the Northwest Division leaders.
Marbury had 29 points and eight assists and Jamal Crawford added 18 points -- all after halftime -- and the Knicks found a way to win despite making only two field goals in the final 8 minutes of regulation to get forced into the extra period.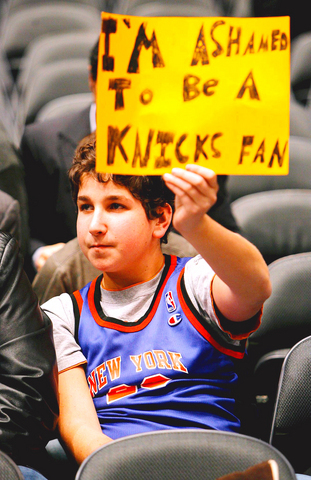 Jesse Feitel, 15, from East Northport, New York, holds up a sign expressing his displeasure with the Knicks before the start of the game against the Utah Jazz at Madison Square Garden in New York on Monday.
PHOTO: EPA
Deron Williams scored 23 points for Utah, including a jumper that gave the Jazz a 96-95 lead with 3 seconds left. But David Lee found Marbury streaking up the left side with his inbounds pass and Marbury made a layup that was ruled good after a review by the officials.
Brawl penalties
NBA scoring leader Carmelo Anthony was suspended for 15 games and six other players were penalized on Monday, two days after the brawl between the Denver Nuggets and New York Knicks.
Nate Robinson and J.R. Smith each were suspended for 10 games, and four other players were also banned. League commissioner David Stern fined each organization US$500,000.
Nuggets 117, Wizards 108
At Denver, the home team didn't need its top two scorers against Washington.
Playing without Carmelo Anthony and J.R. Smith, starting 15 and 10-game suspensions respectively, Denver blew an early 25-point lead but held on for the nine-point win.
Anthony, Smith and Nene were all suspended earlier in the day for their roles in a brawl against New York on Saturday.
Earl Boykins had a season-high 29 points -- including 15 in the fourth quarter -- and Marcus Camby grabbed 17 rebounds and scored a season-high 25 points.
Arenas, who scored a franchise-record 60 points against the Lakers the night before, finished with 23 points against Denver.
Nets 105, Warriors 97
At East Rutherford, New Jersey, Jason Kidd recorded his 81st career triple-double and Nenad Krstic had 26 points for New Jersey.
Kidd finished with 10 points, 12 assists and 11 rebounds and the Nets won for the fifth time in 16 games. The triple-double was the sixth of the season for the Nets point guard.
Richard Jefferson added 15 points and Vince Carter had 11 for New Jersey, which took control of the game with a 19-4 spurt in the opening seven minutes of the fourth quarter. Little used Bostjan Nachbar had nine of his 13 points in the final quarter.
Baron Davis led Golden State with 25 points, nine assists and eight rebounds. Monta Ellis added 19 points and Mike Dunleavy had 18 off the bench.
In other games, it was: Heat 101, Hornets 99; Grizzlies 134, SuperSonics 126, 2 OT; Mavericks 109, Kings 91.
Comments will be moderated. Keep comments relevant to the article. Remarks containing abusive and obscene language, personal attacks of any kind or promotion will be removed and the user banned. Final decision will be at the discretion of the Taipei Times.