Hungary bids farewell to Puskas
MIGHTY MAGYAR Soccer legend Ferenc Puskas received a full state funeral in Budapest as his fellow-countrymen paid tribute to the star of Hungary's 1950s `Golden Team'
International soccer personalities, ordinary Hungarians and politicians alike flocked to Hungary's national soccer stadium on Saturday to bid a fond farewell to Ferenc Puskas, the nation's greatest ever soccer player.
Puskas, who died on Nov. 17 aged 79 of cardiovascular and respiratory failure following a long illness, shone for Hungary's "Golden Team" and Real Madrid in the 1950s and 1960s and is considered one of the greatest players of all time.
The crowd, numbering in excess of 10,000, stood in silence, many of them holding candles in the dimming early-evening light, and a lone bell tolled as the coffin was brought onto the pitch that "Little Brother," as he was affectionately know in Hungary, so often graced as a player.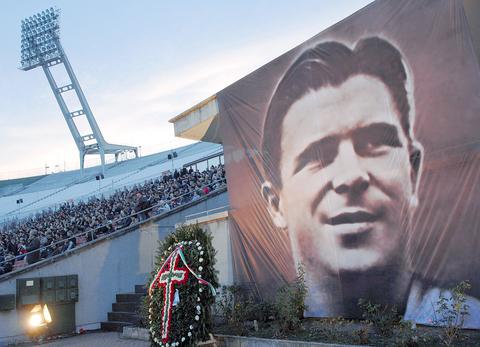 A giant portrait of Hungarian soccer legend Ferenc Puskas is seen during the state mourning ceremony at the Puskas Stadium in Budapest, Hungary, on Saturday.
PHOTO: AP
The coffin, draped in the Hungarian flag, sat on a massive plinth flanked by flaming torches as people paid tribute to the arguably the most famous Hungarian of all time.
Puskas was a key figure in the Golden Team, which went 32 games unbeaten, winning an Olympic gold.
However, the team lost the 1954 World Cup final 3-2 to West Germany as Puskas struggled with injury.
Perhaps the most moving tribute of the evening came from Jeno Buzanszky, who along with Gyula Grosics is one of only two surviving members of the Golden Team.
"One star fewer shines on earth, but one more now shines in the sky," he said. "When we look up to the sky now, we will find the brightest of all -- yours."
Puskas had been granted the honor of a full state funeral, and the flag outside parliament flew at half-mast on a day Hungary's prime minister made an official day of mourning.
After the public ceremony, Puskas's coffin was placed on a carriage drawn by six black horses, and taken from the stadium that was named after him several years ago.
His body was transported through town with a full military guard to Heroes' square, where he received a military funeral.
His body was then to be carried down Andrassy Street, one of Budapest's major avenues, to Saint Stephen's Basilica, where it had lain in state since Thursday, for burial.
Comments will be moderated. Keep comments relevant to the article. Remarks containing abusive and obscene language, personal attacks of any kind or promotion will be removed and the user banned. Final decision will be at the discretion of the Taipei Times.