Asian Games: Japan coach blames loss on selfishness
Japan coach Yasuharu Sorimachi blasted his team as selfish after they crashed out of the Asian Games soccer tournament just four months after their senior side suffered a similar fate at the World Cup.
With their mixture of J-League hot-shots and rookie talent, Japan were considered one of the favorites for the gold medal, but after narrow wins over Pakistan and Syria, a 2-1 defeat to North Korea condemned them to an early exit.
"The players must understand that they have to fight first for their country and then for themselves," said Sorimachi, a former assistant coach of the national senior team.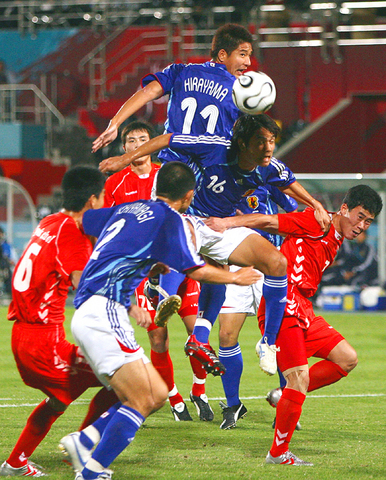 Japan's Sota Hirayama, top center, Yugo Ichiyanagi, second left, and Hiroyuki Taniguchi, second right, vie with their North Korean opponents at the Qatar Sports Stadium in Doha on Wednesday. North Korea beat Japan 2-1.
PHOTO: AFP
"Players cannot go onto the field without the adequate mentality. Against North Korea, our moves were slow. We have to be quicker. We cannot play good football without more energy," he said.
Japan were runners-up to Iran at the last Asian Games four years ago in Busan and Sorimachi admitted that the blame for defeat will be laid squarely on his shoulders.
The loss is especially hard to bear as this has been a productive year for Japan's age group teams.
The Under-16 team won the AFC U-17 championship to clinch a place in the World Under-17 Cup in South Korea next year, having missed the last two tournaments.
Japan's U-19 team has also made it through to the U-20 World Cup in Canada next year, their seventh finals appearance in a row.
"I regret not winning and I feel a lot of responsibility. We will have to learn from the North Koreans and their strong mentality," added Sorimachi after a defeat which also closed off one route to the Beijing Olympics.
However, many in the country will have sympathy for him.
He was only allowed to bring one player per club to the Asian Games, and none from those involved in J-League promotion and relegation issues.
Comments will be moderated. Keep comments relevant to the article. Remarks containing abusive and obscene language, personal attacks of any kind or promotion will be removed and the user banned. Final decision will be at the discretion of the Taipei Times.